PROPERTY: EXPERT SEES SITUATION DAMAGING THE REGION'S REPUTATION
There's Not Much Room for Big Office Space Requirements
Monday, January 7, 2013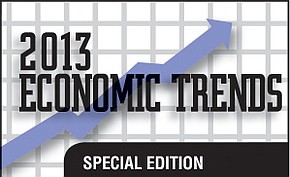 If past trends are an indication, says local commercial real estate broker Tom van Betten, the coming year could see the continuing emergence of two distinctly different supply-and-demand realities for office users scouting new space in the San Diego region.
Those seeking out less than 20,000 square feet will likely find appropriate sites available throughout the county at reasonable rates, if they are willing to look beyond the most prime locations and especially if the corporate world continues to do more with less, including downsizing office footprints.
However, larger companies that are in growth mode — and looking to consolidate operations into one place for ideal efficiencies — could be more hard-pressed to find appropriate Class A locations, and will likely pay premium prices when those spots become available. Commercial construction remains stuck well below pre-recession levels, and speculative building is showing few signs of making a comeback at the moment.
The local market has few full-floor or full-building spaces remaining in the most sought-after neighborhoods.
"There's going to be a real challenge with availabilities for companies looking for big spaces," said van Betten, a tenant representation specialist with Cassidy Turley San Diego. "You could see the gap growing between what some of these larger companies require, and what's actually out there."
Van Betten, among panelists at San Diego Business Journal's recent economic trends forum, says the situation could have long-term implications for the local region's ability to attract and retain large companies in industries looking to expand here.
The commercial real estate world — like most industries — will be watching in 2013 for the potential impacts of recent talks in Washington, D.C., over how to cure federal budget woes through combinations of tax increases and program funding cuts. Anything that impacts job growth could in turn affect office space demand in major metro markets including San Diego.
Much of the current activity in the local market has not been impacted by the "fiscal cliff" debates on Capitol Hill, and the local economy generally is diverse enough to sustain momentum at least for the near term.
While local defense-related contractors have been scaling back their office space during the past year — primarily due to Pentagon programs that were already winding down, but also in anticipation of future military cuts — van Betten notes that firms in other industries continue to boost their local footprints, especially in the realms of Internet, wireless and life-science technologies.
Prev Next