TECH: CLIMATE CONCERNS ARE CATALYST; SOITEC TO EMPLOY 450
Government Preference for Clean-Tech Spurs Specialty Businesses
Monday, January 7, 2013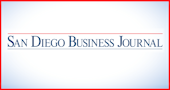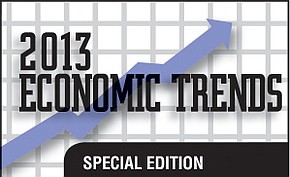 Is past prologue when it comes to San Diego's growing clean-tech sector for 2013?
Most likely.
It's a sector protected from regular market forces by the continued push on the part of local, state and federal government agencies to put clean tech ahead of traditional energy sources, particularly sources that require coal to generate electricity.
The forces that have been in play for the past few years will continue to impact this very important business sector in the months and years ahead.
For example, California is increasingly coming under the jurisdiction of AB 32, "The Global Warming Solution Act of 2006," which champions such alternative sources of power as solar and wind as a substitute for the burning of hydrocarbons, a fuel source most scientists now believe contributes to climate change.
One of the most recent developments is a "cap and trade" system that will allow major polluters to "buy" credits to pollute in a system similar to a stock exchange.
Good News for San Diego
That's all good news for San Diego's economy.
Marney Cox, chief economist for the San Diego Association of Governments, or Sandag, said the region's clean-tech sector would continue to benefit from AB 32 and other pieces of legislation that put such environmental concerns as a cleaner environment at the forefront of public policy.
"It's a big lift" for the industry, said Cox. "It makes clean-tech inherently more attractive than it otherwise would be with investors."
While solar and other power sources are more costly to consumers than coal, gas and oil-fired power plants, they are friendlier to the environment, he said.
"I would expect to see five more years of growth that otherwise would not have occurred," he said. "This is what most people are expecting."
Cox co-authored a recent Sandag report on the impact of employment clusters on the economy, and in that report he said that clean-tech had expanded 9 percent between 2008 and 2010, despite the down economy of the Great Recession.
Such growth, as he noted, should continue, albeit somewhat slowly.
This is heartening news for the more than 880 companies that make up the clean tech cluster in the region, according to nonprofit business trade group CleanTECH San Diego.
The agency has compiled a database of the region's growing cluster of clean technology companies and has broken them down into 350-plus "innovators" — companies that are at the forefront of creating new technologies — and 530-plus "facilitators," companies developing products and services that implement existing technologies.
Nationally, the sector has been hit with a series of shock waves, many the result of the roiling in solar, particularly the makers of solar panels for homes, business and industry. U.S. manufacturers continue to come under increasing pressure from Chinese manufacturers.
The sector has fallen somewhat out of favor with professional investors.
However, the impact hasn't been all negative locally, and most of those local concerns have sidestepped the full impact of the roiling wave.
In December, for example, French-based semiconductor maker Soitec unveiled its new CPV solar manufacturing facility in Rancho Bernardo, which will eventually employ 450 as it expands manufacturing operations in 2013 and beyond.
Soitec's automated plant makes very special photovoltaic, or CPV, solar panels for use in solar power plants throughout the American Southwest as utilities strive to meet state regulations requiring that a greater percentage of electric power generation come from alternative sources.
Those regulations provide Soitec with built-in demand for its products going forward.
Also in December, biomass energy producer Sapphire Energy was one of the top 15 venture capital deals of 2012 as measured by VentureBeat, an online industry trade publication.
Startup Raises $139M
The San Diego-based startup raised a whopping $139 million dollars from a consortium of professional investors, including Monsanto and Venrock, the investing arm of the Rockefeller family.
The capital was spent on building a 2,200-acre "farm" in rural New Mexico that will produce algae that will be harvested to produce crude oil as good as that taken out of the ground, with far less environmental damage.
More of the money will be spent this year (2013 and beyond) as the company attempts to take production from the pilot stage to full production stage.
It is also important to note that public company Sempra Energy is also a big player in San Diego's clean-tech realm with projects scattered across the desert landscape of the Southwest.
The industrial-strength sites include the 150-megawatt Mesquite Solar 1 project under construction near Phoenix, and the 150-megawatt Copper Mountain Solar 2 project underway near Boulder City, Nevada.
Both projects, the first phases of larger plants, are expected to be completed or partially completed in 2013.
Soitec, by the way, has signed five contracts with San Diego Gas & Electric Co., a unit of Sempra, to supply enough solar panels to generate 155 megawatts of power.
"State and local governments are expected to make more policies that benefit the industry and its products," said Cox. "Clean-tech has a very bright future."