Independa Raises $5M in Series A Round
Thursday, January 3, 2013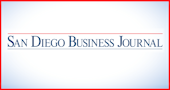 Independa Inc., a San Diego-based company that develops cloud-based software to help the elderly live more independently, recently closed a $5 million Series A round of preferred stock financing.
The funding comes from San Diego-based health care venture capital firm City Hill Ventures LLC, a previous investor, as well as from strategic partner LG Electronics Inc.
LG Electronics has worked to integrate Independa's Angela social engagement platform with LG's Pro:Centric-enabled commercial televisions, which are designed to support hospitality and health care applications.
"As we continue our collaboration to integrate the Independa platform in our market-leading commercial TVs, we are forming a stronger alliance by making strategic investments in the company," said Nandhu Nandhakumar, a senior vice president at LG Electronics in a statement.
Independa's Integrated CloudCare products have home monitoring and safety features, provide medication and appointment reminders, and help seniors communicate via social media.
The new investments will fund expanded sales, research and development, and the distribution of its products. The round also included the successful conversion of the company's convertible note totaling $2.35 million, which was announced in April.
— SDBJ Staff Report