Tourism Marketing District Files Lawsuit Against City Over Contract
Tuesday, February 26, 2013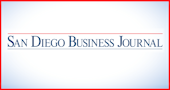 The corporation that oversees San Diego's Tourism Marketing District has filed a lawsuit in Superior Court, seeking to compel Mayor Bob Filner to sign a contract renewing and activating the district for 39.5 years.
The contract, approved in late 2012 by San Diego City Council, would raise approximately $30 million annually for tourism promotion efforts through hotel room assessments, but funding cannot be disbursed without a contract signed by the mayor.
In a statement, TMD board Chairman Terry Brown said the district reluctantly filed a lawsuit after considering alternatives proposed by the mayor "which we believe would be severely detrimental to the many thousands of people employed or who work in the tourism and hospitality economy."
"Despite the filing of this lawsuit, the TMD Corp. and the tourism and hospitality community are grateful for the City Council's support of our joint efforts to provide thousands of jobs and millions of dollars in economic benefit to the city," Brown said. "It should be noted that the corporation is not seeking damages against the city."
In his own statement, Filner said TMD officials have refused his requests to discuss ways to create "greater transparency and accountability" in the use of public funds, as well as his proposal to implement the agreement for a one-to-two-year period while other issues are negotiated.
Those include the mayor's proposals for a shorter TMD term, more funding to be directed toward other city services, and provisions calling for "livable wages" for workers at participating hotels.
"Now those same hoteliers who have refused to negotiate for three months have decided to sue me in an effort to force me to sign an agreement that rips off San Diego taxpayers," Filner said. "Well, I wasn't elected to fight for the interests of a small band of wealthy hoteliers — I was elected to fight for the taxpayers of San Diego."
Filner said he will be conferring in coming days with leaders of City Council, the San Diego Convention Center board, San Diego Tourism Authority and local business leaders "to develop and implement a different approach for marketing San Diego."
On Jan. 1, hotels within the city that have 30 or more rooms began collecting a 2 percent surcharge on room bills, with properties under 30 rooms collecting at a 0.55 percent rate. Two private lawsuits over formation of the district are currently pending.
— SDBJ Staff Report