REAL ESTATE: SCARCE LAND, LOW INTEREST RATES, MOTIVATE BUYERS TO ACT
Market Conditions Point to a Potential Bubble in Housing
Monday, February 25, 2013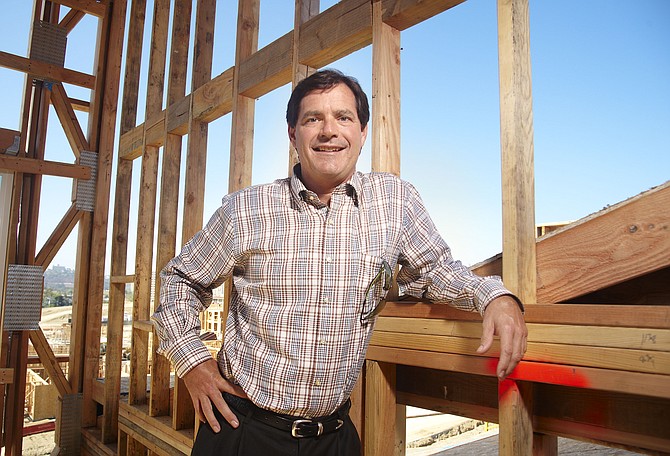 The increased demand for housing is spilling over to the purchase of new homes, say local builders.
Barnes said Shea closed on 200 single family houses last year and expects to exceed that number by about 10 additional houses this year.
Shea wasn't alone in enjoying increased sales. Brookfield Homes, the subsidiary of Brookfield Residential Properties Inc., based in Calgary, Alberta and one of North America's largest home builders, and Davidson Communities, headquartered in Del Mar, were also experiencing higher sales in the county.
Adrian Foley, Brookfield's chief operating officer, said in San Diego County, the company sold 170 homes last year, up from a little more than 100 in 2011.
This year, Brookfield should close between 150 and 175 new sales. The houses range in price from the high $300,000s to about $1.2 million, Foley said.
'Increased Demand'
"There's increased demand for move-up housing today that wasn't there three-plus years ago," Foley said.
Because of the increased demand, and rising cost for materials and labor, Brookfield boosted its prices on the new houses this year, Foley said.
In 2012, the prices in the county ranged from high $200,000 to about $950,000.
Countywide, new residential construction reached $12.6 billion in value last year, up from $9.5 billion in 2011, according to McGraw Hill Construction, a unit of McGraw Hill Cos. That figure includes apartment construction.
Borre Winckel, president of the Building Industry Association of San Diego County, said coming out of the recession, new house sales were sluggish because those units were competing with a plethora of foreclosed properties and short sales of recently built houses, and buyers were focused on that market.
"That story has radically changed," Winkel said. A confluence of low mortgage interest rates that average well below 4 percent, the realization by many that a bottom in prices was reached, and fewer choices in the inventory of distressed properties is causing more buyers to look at buying new houses, he said.
Roadblock Is Certain
"People have figured out that if they don't jump into the market now, this once in a lifetime opportunity is gone," Winkel said.
While demand and sales for new homes are rising, the industry isn't breaking any records on volume and is far from satisfying the real demand because the true need is much greater, Winkel says.
Because area government agencies have put artificial constraints on new home building and limited the permits for new development, the recent selling activity is certain to hit a roadblock in the not-too-distant future, he said.
Builders with entitled plans are moving ahead, generating new units, and should see an increase in sales numbers for the next 12 to 18 months. But beyond that there's uncertainty, Winkel said.
"Right now times are better (for builders) but we don't know how long it will last," he said.
Assessing the number of building permits granted in the county last year shows a 6 percent increase from 2011 to nearly 5,700, according to county records.
Demand Remains Intense
The majority of those permits for both years were for apartments. In both years, single family permits were 2,225 and 2,220.
In 2004, just before the peak of the housing bubble, some 18,000 housing permits were issued in San Diego.
Ure Kretowicz, chief executive of San Diego-based Cornerstone Communities, said his firm enjoyed about a 10 percent increase in sales, which got progressively stronger as the year unfolded.
"Typically we see a slowdown in sales as you get into the end of the year, but there was no slowdown at all last year," Kretowicz said. "Last year we sold out of four communities (out of seven)."
Demand remains intense, and the problem today is finding available land to build upon, he said.
"The challenge for any builder in San Diego is deal flow," Kretowicz said, referring to acquiring new vacant land for the houses.
Because buildable land is scarce, prices are gradually escalating, and over the next few years there could be another price run-up, he said.
"I'm nervous we'll see another housing bubble in San Diego because there's such a lack of inventory."