TOURISM: MAYOR SAYS IT'S A 'BAD DEAL' FOR CITY, SEEKS MAJOR CHANGES
Dispute Over Tourism District Hobbles Marketing
Monday, February 25, 2013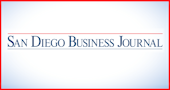 Efforts to market San Diego to visitors remain in limbo amid political and legal feuding over implementation of a recently renewed Tourism Marketing District, with the region's main tourism promotion agency mulling staffing and other cuts that could occur later this year.
The San Diego Tourism Authority derives 80 percent of its budget from the marketing district, and agency officials said the authority as of May will essentially run out money to market the region to outside travelers if Mayor Bob Filner does not sign an agreement activating the district.
"Hopefully we can avoid having to lay off staff,' said Kerri Kapich, senior vice president of marketing for the Tourism Authority.
She said the agency recently postponed outside media buys, totaling about $1.6 million, for advertising that normally would have run during May and June in markets including Los Angeles, Las Vegas, Phoenix and Tucson, targeting summer and fall travelers. That followed an earlier move to cancel $5.4 million in ads that would have been purchased during the first and second quarters to promote the local summer season in several western U.S. markets.
Mayoral Approval
San Diego City Council last fall approved a 39.5-year renewal of the Tourism Marketing District, as the original five-year marketing district was set to expire at the end of 2012. City officials have estimated that the renewed district will generate approximately $30 million annually for local tourism promotion over its full span.
The district is financed through a surcharge on hotel room bills, previously approved by local hoteliers. On Jan. 1, hotels within the city that have 30 or more rooms began collecting a 2 percent surcharge on room bills, with properties under 30 rooms collecting at a 0.55 percent rate.
The surcharge is in addition to the city's existing 10.5 percent hotel room tax, which impacts all properties and is not affected by the marketing district delay.
The TMD cannot distribute funds until the mayor signs an agreement formally activating the district. During a recent interview at his office, Filner said he is "not looking to disrupt the economy," but has concerns over the collection mechanism, the length of the district's term and its overall benefits to the city beyond large hotel operators.
"It's public money being distributed by a private entity, and it's a bad deal for the city," Filner said. "I want to negotiate a better deal for the city, and I'm willing to sit down with anybody who wants to talk about it."
Filner said such talks could involve hoteliers, tourism officials and other business leaders, to discuss his conditions for signing off on a marketing district. Those include shortening the district's term, auditing or strengthening oversight of TMD spending and finances, and providing for "livable wages" to be paid to workers at participating hotels.
Those comments followed Filner's private meeting with Terry Brown, chairman of the marketing district's board of directors, which both sides said ended in stalemate.
"Unfortunately, the mayor was unwilling to accept anything less than full agreement with his requests, which would create irreparable damage to thousands of jobs and precipitate the loss of millions of dollars the tourism economy creates in this region," TMD Executive Director Lorin Stewart said in a statement following the meeting.
Possible Litigation
TMD officials also said the district was prepared to take legal action to compel the city to sign the contract, though no lawsuit had been filed as of press time. TMD spokesman Tom Blair said district officials would not be commenting beyond statements already issued.
Filner said litigation would only prolong the process of reactivating the district. He is also concerned about possible liability for the city if the district is found to be improperly implemented as a result of two private lawsuits already pending.
City Attorney Jan Goldsmith has said the current TMD agreement already indemnifies the city on that issue, but he has not commented on the matter of whether the mayor is compelled to sign the TMD agreement.
That issue was expected to be discussed by city officials and legal representatives in a closed City Council session scheduled for Feb. 26. City Council has also scheduled a public hearing on the economic impacts of the Tourism Marketing District, to be held during its Feb. 25 meeting.
At its recent annual economic impact and forecast event, the San Diego Tourism Authority reported that 32.3 million people visited the region in 2012, up from 31 million in 2011. Visitors directly spent $8 billion in 2012 and had an overall regional impact of $18.3 billion.
Tourism officials said the industry generated $192 million in hotel transient occupancy tax revenues in fiscal year 2012 and now employs 160,000 people countywide, about 13 percent of all jobs in the region.
Kapich said the TMD delay puts the region at a competitive disadvantage for luring travelers during the second half of 2013, as other destinations with larger advertising budgets — such as Las Vegas and single venues like Disneyland — vie for consumers in the same target markets.
"Some people might think that San Diego has enough going for it right now that it doesn't need any marketing help, but that couldn't be further from the truth," she said.