Sanitas Inc. Receives FDA Approval for Wellaho Medical Device
Wednesday, February 20, 2013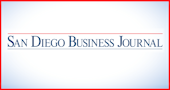 Sanitas Inc., a San Diego-based company that develops mobile technology for patients with chronic diseases, has received approval from the U.S. Food and Drug Administration for its Wellaho platform as a class II medical device.
The HIPAA-compliant personalized outpatient management system, which is currently deployed in clinical studies at UC San Diego Health Services, allows physicians to monitor and supervise patients between office visits. Patients can also use the device to monitor their medical condition.
It serves patients with chronic conditions like diabetes, congestive heart failure, kidney disease, asthma, hypertension, obesity and breast cancer. The privately held company was founded in 2010.
"Patients with chronic conditions need a web of care, coming from the best that providers and technology can offer," said Sanitas CEO Naser Partovi, in a statement. "Given the tsunami of new apps and technologies that hit the market each year, both patients and providers need the highest validation for the products and services they use.
"Now, with the FDA's approval, Wellaho offers one more reason for providers and patients to trust that we can provide a safe, secure, and effective solution for managing their care."
— SDBJ Staff Report