MOVIES: EXPANSION SOUGHT IN PRODUCTION AND DISTRIBUTION
Stage Being Set for Big Movie-Business Roles
Monday, February 18, 2013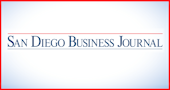 Hollywood's annual awards season, now in full-hoopla bloom with the approach of the Oscars telecast, often gets local producers like Dale Strack wondering how San Diego County can nab a larger chunk of California's multibillion-dollar movie production and distribution industry.
"There are so many new ways to get films made and get them shown these days, and we can use this to our advantage in San Diego," said Strack, a partner and co-founder of Rancho Santa Fe-based Mantooth Productions, which produced last year's feature film "Grave Stories" and a follow-up TV series, "Deadtime Stories," airing this summer on the Nickelodeon cable network.
Former real estate executive Strack, with business partner Tonya Mantooth, was part of a five-person contingent that last year assumed leadership roles in the nonprofit San Diego Film Foundation, which oversees the annual San Diego Film Festival, scheduled this year for Oct. 2-6.
A Hot Ticket
Strack, who recently became the foundation's chairman and CEO, said the new team's long-term mission includes making the 12-year-old festival into an economic-generation powerhouse linking filmmakers with distributors and financial backers.
He notes that the hunger for new product has grown significantly over the past decade, with on-demand services, cable companies, and firms like Netflix and Amazon now producing their own content for viewing on TVs, computers and mobile devices.
But Strack acknowledges there is much work ahead before the San Diego Festival can come close to the impact of the biggest established showcase events, like Utah's Sundance, New York's Tribeca, and the Toronto Film Festival. For now, it is looking to emulate the impact of two smaller but popular festivals held annually in Southern California — the Palm Springs International Film Festival, which draws more than 136,000 moviegoers annually, and the Santa Barbara Film Festival, which attracts around 70,000.
If the local festival can grow its attendance beyond last year's 12,000 — about evenly divided between locals and out-of-town visitors — the economic benefits would be considerable, especially on the visitor side.
"They book hotel rooms, and they spend money at stores and restaurants," Strack said. "We know there's a definite big impact from these festivals."
While the foundation has not formally studied the economic impact of the San Diego festival, its research indicates that the biggest showcases can garner regional ripple impacts of more than 100 times the visitor count.
For instance, Tribeca draws 400,000 nonresident visitors and has a $70 million impact on the local economy; Toronto generates 400,000 visitors and a $97 million impact; and Sundance has 40,000 visitors with an $80 million impact.
A 'Ton' of TV
On the production side, feature films are well behind television in terms of economic impact on the San Diego region.
According to the San Diego Film Commission, a promotional and permitting agency that last year came under the umbrella of the San Diego Tourism Authority, TV show production generated more than $9.2 million in local spending during the fiscal year ending June 30, 2012.
That represented the bulk of the more than $15.5 million in total media production spending. There were 131 TV productions, generating 7,350 labor days and 6,075 hotel room nights.
Commercial and infomercial production added an additional $2.5 million in spending and 1,829 hotel nights.
"There's a ton of TV that's done here — reality TV shows, documentaries, advertising, all kinds of things that are done outdoors because of the good weather," said Rob Dunson, director of film production for the San Diego Film Commission.
Dunson noted that while the local region benefits from its proximity to Los Angeles, it lacks the large studio soundstages, production supply vendors, and infrastructure needed to support filming of longer-term feature film projects.
One result is that movie filming had a comparatively small local impact in the latest fiscal year, with 28 productions generating 5,641 labor days and 1,794 hotel room nights, according to film commission data.
Because of the state's relatively high production costs, San Diego and the rest of California also face rising competition from other regions in the U.S. and Canada now nabbing a large chunk of production shoots via competitive incentives.
The Competition
"We're competing with other cities, states and whole countries for movie production," said Dunson, himself a former location manager and line producer for TV shows in Los Angeles.
Governor Jerry Brown last fall signed legislation that granted a two-year extension of California's tax credit program for media production, which will run through July 2017. The $100 million a year program, which debuted in 2009, is administered through a lottery system and awarded tax credits to 28 projects in 2012.
According to the Motion Picture Association of America, the film and television industry is responsible for 191,146 direct jobs and $17 billion in wages in California, including production and distribution-related jobs. More than 129,000 of those jobs are production-related.
Since state assistance has been limited by budget constraints, experts said local leaders will need to find other ways to raise the San Diego region's profile as a film production and distribution hub.
"It's going to take some investment to get those benefits that come from having a presence in the film industry," Strack said. "We need to have that discussion locally where people get together and figure out, what's it going to take to bring more of that production here?"