NEWS AND NOTES FROM COMMUNITIES AROUND SAN DIEGO COUNTY
Regional Report
Monday, February 18, 2013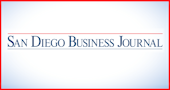 SOLANA BEACH
Work Progresses on Highway 101 Improvements
Work is proceeding on the second phase of a year-long, $7 million streetscape renovation in the Coast Highway 101 business district of Solana Beach.
According to a statement from the city, work in coming weeks will include connecting businesses to new water lines, replacing sidewalks between Cliff and Estrella streets, and shifting traffic lanes near Loma Santa Fe Drive.
Elements of the recently completed first phase included relocation of electrical and irrigation components, along with other sidewalk renovations. Work is expected to be fully completed by October 2013.
City Council last year awarded a contract for the work to San Marcos-based construction firm Dick Miller Inc. The completed project will feature new community gathering plazas with seat walls and benches, along with sidewalks redesigned with multi-colored aggregate and rock.
— Lou Hirsh
EL CAJON
Apartment Property Gets New Owner
The 25-unit Westbrook Manor Apartments in El Cajon was recently sold for $2.9 million in an off-market transaction, according to brokerage firm CBRE, which represented buyer Trumbull Revocable Inter Vivos Trust.
The seller was Westbrook Manor LLC, represented by Brycorp Properties. The property was fully leased at the time of sale.
The apartments were built in 1973 on 0.68 acres at 379 Orlando St. The building last sold for $2.7 million in 2007, according to a statement from CBRE.
— Lou Hirsh
CHULA VISTA
New Child's Play Area at Nature Center
The Chula Vista Center, the area's biggest shopping mall, said Center Stage Productions, a New Jersey company, developed a new child's play area within the center.
The nature themed area is one of the enhancements the center has done in recent months by property owner Rouse Properties Inc. Others include an outdoor fireplace with lounge seating, bistro-type seating, a central courtyard with a water feature and Wi-Fi access.
The center has about 875,000 square feet and is anchored by Macy's, JC Penny, Burlington Coat Factory, and Sears.
— Mike Allen
ESCONDIDO
New Tech Center In Old Library Branch
The city's library system recently transformed part of a closed branch library into a technology and Internet center. Ensconced within the East Valley Community Center at 2245 East Valley Parkway, the new tech center consists of 30 computers, a scanner and a few printers, said Cindy Smith, interim city librarian.
After the city closed the old library branch at the same location in June 2011, the city decided to refurbish part of the space and transform it to a tech center. The refurbishments and equipment cost about $160,000, with part of the funding coming from grants including $25,000 from Cox Communications, she said.
The city is looking to lease out the remainder of the old library space, or about 10,000 square feet, Smith said.
The center's hours are Monday through Friday, 12 p.m. to 6 p.m. It's closed Fridays through Sundays.
— Mike Allen
CARLSBAD
City Approves Incubator at Former Insurance Building
Carlsbad City Council has approved plans for a new life-sciences company incubator, being set up in a local building that formerly housed a Farmers Insurance auto claims center.
An organization known as Bio, Tech and Beyond will lease the building at 2351 Faraday Ave., according to a statement from the city. The group will manage a start-up incubator and science education center.
The effort is being led by Joseph Jackson, founder of BioCurious, among the nation's first community laboratories, and Kevin Lustig, founder and CEO of San Diego-based software products maker Assay Depot.
The city owns the 6,000-square-foot building, and will lease it to the incubator operators for $1 a year for five years. Incubator managers will pay for all tenant improvements and furnish the lab with equipment and instruments valued at $250,000.
City officials said goals for the incubator include creating new life-sciences companies and jobs in Carlsbad, and strengthening the city's life-sciences cluster.
— Lou Hirsh
OCEANSIDE
Transit District Continues High-Tech Rail Improvements
The North County Transit District recently began work on the second phase of local train control improvements, mandated by the federal Rail Safety Improvement Act of 2008.
The latest phase involves installing fiber-optic cables along and under railroad tracks in Oceanside, geared to operation of the region's Coaster trains.
A transit district statement said the latest work includes areas between the Oceanside Transit Center and the Old Town Station.
The district is installing technology as part of the national Positive Train Control Project (PTC), requiring fully functional PTC systems to be in place on railroad systems, including the regional Coaster.
The proactive systems, based on global positioning system (GPS) technology, help prevent train-to-train collisions, speeding, derailments and incursions into work zones, transit officials said.
— Lou Hirsh