FINANCE: INCREASING CONFIDENCE BRINGS AN UPSWING IN BUSINESS
Local Lending Climate Improves, Recovery Taking Hold
Monday, February 18, 2013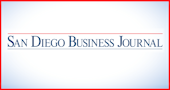 Local banks and credit unions saw a spike in lending activity last year, a clear indicator that an economic recovery is gradually taking hold.
At California Coast Credit Union, the area's third largest with $1.7 billion in assets, loan originations increased 41 percent over the year to $370 million, said Kathy Cady, CCCU's chief operating officer.
About 56 percent of those new loans were first trust deed mortgages, with the remainder split between auto, unsecured credit cards, and some home equity loans, Cady said.
Business Is Growing
Lending improved considerably from 2011, although consumers still appear to be careful, she said. "Consumers are still cautious but they're borrowing more than they did in 2011," Cady said.
The lending atmosphere locally is definitely on the upswing and many businesses are feeling more confident, says Steve Sefton, chief executive officer at Regents Bank.
"Every single business owner I've talked to in the last two weeks told me their business is growing," Sefton said.
As of the end of December, Regents Bank's loans grew 7 percent over the year. Loan growth at California Community Bank increased 12 percent, he said. Regents, a subsidiary of Los Angeles-based Grandpoint Capital, closed its acquisition of California Community in November. La Jolla-based Regents now has about $600 million in assets and seven offices.
'Aggressive' Lending
Lawrence Henry, regional executive for Union Bank in San Diego, said the bank's lending was up in all its key areas: small business, middle market business, and mortgage. "We're looking to aggressively lend," Henry said.
Last year, Union increased its lending to small businesses through the federal Small Business Administration's 504 loan program, and the bank is seeking to grow that activity this year by a greater margin, Henry said.
Union Bank's fourth quarter report shows average total loans at the $97 billion asset lender, excluding purchased credit impaired loans, was $56.5 billion, up nearly $5 billion from the like quarter of 2011.
The increased lending wasn't only felt at larger banks such as Union, but at the other end of the spectrum as well. Vibra Bank, with a single office in Chula Vista and $110 million in assets, saw its loan portfolio increase by 11 percent to $85 million over the level at the end of 2011.
CEO Scott Parker said the bank's core loan production grew 14 percent for the year, with real estate lending making up the biggest percentage of new loans.
Real Estate Scene
Parker said the real estate outlook has definitely improved, particularly in lending on apartments and mixed-use projects.
"We see increased demand for construction lending, which has not been the case until about mid-2012, and I'm hearing the same thing from other bankers in our area," Parker said.
Mortgage lending took a big increase at BofI Holding Inc., the San Diego based parent of BofI Federal Bank, which reported loan originations for the three months ended Dec. 31, 2012 reached $612.6 million, up 70 percent from the comparable timeframe in the prior year.
That boost in loans helped propel the bank's assets from $2.2 billion a year ago to $2.9 billion as of the end of December.
At Wells Fargo Bank, based in San Francisco and with 104 branches (the largest) in the county, the trends in increased loan demand were clearly evident, although the bank provided only regional figures and for loan applications, not actual loans approved.
In Southern California, Wells said its West Coast business banking group, which makes loans to businesses in the $2 million to $20 million revenue segment, saw loan applications jump 39 percent in 2012.