Executive Profile: Steven D. Sefton
Monday, February 18, 2013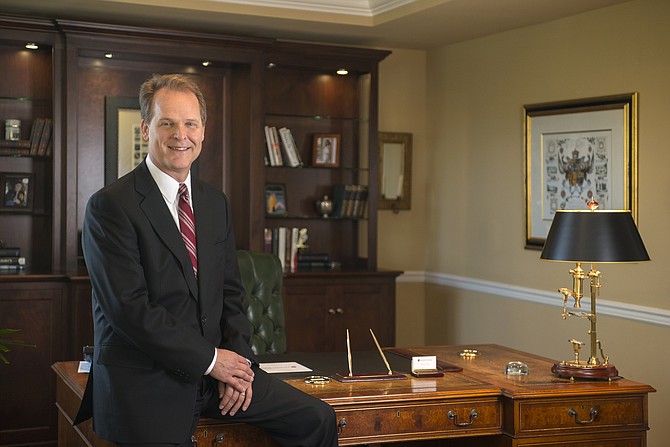 Steve Sefton is president and CEO of Regents Bank. Having worked together previously, Dan Yates, former president and CEO, recruited Sefton in 2011 for the job of president when Yates took on the role of president of Regents Bank's holding company, Grandpoint Capital. In 2012, Sefton assumed the role of CEO as well. Regents Bank specializes in serving small to midsized businesses and offering a unique brand of consultative banking.
RESUME
Name: Steven D. Sefton.
Company: Regents Bank.
Titles: President and CEO.
No. of employees: 102.
Year founded: 2001.
Education: Bachelor of Business Administration, Finance-Banking, University of Texas at Austin, in 1984.
Birthplace: Pasadena, Texas.
Age: 52.
Current residence: Carmel Valley.
Family: Wife, Lori of 28 years. Kids: Lauren (25), Austin (23), Amy (20), Cara (15).
BUSINESS PHILOSOPHY
Essential business philosophy: Work to become a trusted adviser for your clients and employees, and your success will follow theirs.
Best way to keep a competitive edge: Listen. You can learn by using your two ears and one mouth proportionately. If you're receptive to hearing great ideas, you can work with people to make those ideas even better.
Guiding principles: Treat others how you want to be treated. People and business follow you based on how you make their lives better.
Yardsticks of success: Hearing about good things that happen after I help people make mutually beneficial connections. Also hearing that our client list is growing — I know that means that we're consistently delivering on our promises to deliver value, not just services.
Goals yet to be achieved: Climb Mount Whitney and climb Pacific Crest Trail.
JUDGMENT CALLS
Best business decision: Making a bet on the down real estate market in 2010. It led me to change my thinking to be more entrepreneurial than I thought possible. It affects my thinking to this day.
Toughest business decision: Leaving a successful career and relocating my family to San Diego to take over Regents Bank. (It was the right decision!)
Biggest missed opportunity: Declining to take the risk to start a business early in my career in property management (in retrospect — it turned out pretty well after all).
Mentor: Dan Yates. Dan was my team leader, manager and later CEO. He coached me in consultative banking, serving me heavy doses of Kool-Aid until I now proudly mix and serve it to others.
Word that describes you: Energetic.
TRUE CONFESSIONS
What you like best about your job: Connecting people with the resources that are going to help elevate their lives or their businesses.
What you like least about your job: The amount of resources that get devoted to compliance issues, which I would prefer to dedicate to helping my staff and our clients. Busy paperwork.
Pet peeves: Pessimism, defeatist attitudes and laziness.
Most important lesson learned: That it's okay to admit to something you don't know. Life should be a lifelong learning process, and if you pretend you know it all, you never will. "There's no telling how far you can go in life if you don't mind who gets the credit," — Ronald Reagan.
Person most interested in meeting: The original San Diego banking family, the Seftons (not related).
Three greatest passions: My God, my family and living life well.
First choice for a new career: Managing real estate investments.
PREDILECTIONS
Favorite quote: Care for your neighbor more than yourself — Jesus.
Most influential book: Bible.
Favorite status symbol: An intact and loving family.
Favorite restaurant: Fleming's Prime Steakhouse & Wine Bar.
Favorite place for business meetings: Milton's, over breakfast.
Favorite vacation spot: The Big Island — South Kohala.
Favorite way to spend time: Anything with family.