San Diego Hospice Closes Doors, Transitions Patient Care to Scripps Health
Thursday, February 14, 2013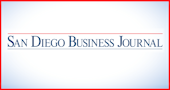 San Diego Hospice announced that it will shutter its doors for 60 to 90 days as it seeks court approval to transition patient care and some employees to Scripps Health.
Its plans are part of a set of proposals filed by the hospice's attorneys in U.S. Bankruptcy court on February 13.
Scripps has offered to purchase San Diego Hospice's hospital and headquarters, and will hire enough San Diego Hospice employees to take care of its current patients. Funds from the building purchase will be used by San Diego Hospice to pay for its operations, and avoid taking on more debt as it winds down its business.
Scripps will also purchase San Diego Hospice's electronic medical record license and associated computer equipment. The health care giant recently purchased the stock of Poway's Horizon Hospice, which provides in-home services countywide. It will retain its staff and patient pool and has plans to increase the breadth of its hospice care, said CEO Chris Van Gorder in an interview earlier this month.
"This is obviously a difficult decision for all of us associated with San Diego Hospice. The plan we have put forward will allow us to take immediate steps to stop incurring debt, which increases every day we remain in operation," said Kathleen Pacurar, CEO of San Diego Hospice, in a statement. "We are taking this course after many months of discussions to resolve our financial challenges, including talks with Scripps asking for their help."
San Diego Hospice filed for Chapter 11 bankruptcy protection earlier this month. It faced scrutiny following a November audit that found that its admissions policies didn't adhere to government guidelines — which could result in the hospice paying back millions of dollars to Medicare. It also owes about $9.8 million to creditors, including $4 million to Wells Fargo Credit Card, according to a bankruptcy filing.
San Diego Hospice has since laid off more than 250 employees and has closed its 24-bed inpatient facility in Hillcrest – the hospital that Scripps plans to buy.
"Our decision to file bankruptcy was based on our need to maintain continuity of patient care as we worked through the details of this plan," Pacurar said. "We believe this is the best course for our patients and their families, and for San Diego Hospice."
— Meghana Keshavan