Key Customer Contracts Help Boost Kyriba Sales 36%
Monday, February 11, 2013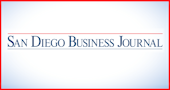 Kyriba, a San Diego firm that provides cloud-based treasury solutions, said its sales last year increased 36 percent, bringing the total to a range of $30 million to $35 million.
Among key customer wins contributing to the growth were contracts the business won from AOL, Time Warner Cable, TRW Automotive, United Heritage Insurance, and Vale, Kyriba said in a press statement.
In the latter half of 2012, Kyriba's overall bookings increased 50 percent over the comparable time in 2011, the company said, without providing dollar amounts.
The firm said it opened offices in Tokyo and London, and established a joint venture in Japan with Sunbridge Corp. and several other minority partners.
CEO Jean-Luc Robert said this year Kyriba will expand its core market both with larger organizations and midmarket organizations, and its reselling channel.
Kyriba said its total employment was 250 including 15 in San Diego.
— Mike Allen