HEALTH: REFORM'S IMPACT ON SAN DIEGO REVIEWED AT EVENT
Tectonic Shift Coming In Health Care Shake-Up
Monday, February 4, 2013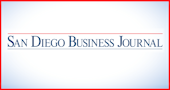 Ted Mazer said he's having a mild anxiety attack.
Mazer, a California Medical Association officer and past president of the San Diego County Medical Society, recently spoke at an event that addressed health care reform's impact on San Diego and its employers.
And the impact will be tremendous, he said.
One of the Affordable Care Act's most controversial and complicated provisions is the introduction of health insurance exchanges, which are government-regulated standardized health care plans. California's exchanges will be up and running by Jan. 1, 2014. And the cost burden of the new system, which will provide coverage to millions of previously uninsured individuals, will be shouldered largely by employers and taxpayers, Mazer said.
"They'll be promising everything for nothing, as California always does," Mazer said. "And thus cost-shifting everything to those who are actually going to pay for it — you, the employer, the individual market who doesn't go through the exchange, and eventually the taxpayer."
Mazer spoke at an event sponsored by New York-based human resources consulting firm Towers Watson and San Diego-based health care staffing agency AMN Healthcare. It also featured Steven Scott, vice president and general manager of large group insurance at Anthem Blue Cross, and Susan Taylor, executive director of external affairs for Scripps Health.

'Just One Opinion'
Mazer didn't mince words: He said that subsidies for the increased premiums will have to come from tax hikes, which "may very well cause the failure of the entire health care reform."
"Just one opinion," Mazer said.
His rationale was multilayered. Most problematic is the concept that patients will likely shift in and out of the health care exchanges, reducing continuity and consistency of treatment. The emergency departments will be choked with new patients who may not receive appropriate coverage options on the exchanges — increasing wait time for employees that businesses are buying coverage for, and potentially exacerbating health problems.

"And it's more expensive for the community. It raises premiums for health insurance because it's a cost-shift to the private sector," Mazer said.
On the plus side, he said that San Diego can historically be viewed as a microcosm of the United States — and the changes that will rock the country have already been in effect to some degree in this city.
"We've been in a rapidly shifting market for the past 25 years, organizing well ahead of health care reform," Mazer said. "We're not going to feel as dreadful an impact as some areas of the country will."
Ahead of the Curve
He said that health care megasystems like Sharp HealthCare and Scripps Health have already consolidated physician practices and streamlined patient care — a trend that will continue to grow in San Diego and across the country. He said San Diego physicians have had time to acclimatize to a new model that veers away from private practice, whereas physicians in other states may be more reticent to team up and will only do so if forced.
"We have very large systems making up a large deal of health care in San Diego, and there isn't a whole lot else here," Mazer said. "Everybody here is affiliated here already. We have to be — there's no market for independent physicians."
Despite the deluge of uncertainties, health care reform is on its way and employers will have to start making major decisions now. Scott from Anthem addressed some ways in which employers can begin to lessen the blow from the upcoming cost increases.
For example, Scott cited a provision in the ACA that established a "reinsurance program" that is expected to have a significant impact on employer health care costs between 2014 and 2016.
Scott said he predicts that more employers will start shifting toward a self-insurance model, as opposed to relying on a traditional insurance plan. Scott broke down the cost savings by examining a model of a large employer, with 2,000 employees. Through traditional insurance, after ACA fees a company might pay about $22.4 million for its benefit plan. But if it shifted to a self-insurance model, certain ACA insurer fees and California taxes would be waived and the company would only pay about $20.5 million — nearly $2 million in savings.
These numbers can be extrapolated to apply to smaller employers, he said.
"The reason health care costs are rising isn't because of insurance company greed — it's because the cost of health care is rising," Scott said.
Taylor addressed ways that hospital systems like Scripps Health are reducing costs to help mitigate rising health costs that impact insurance premiums. Scripps said it saved $70 million last year, just by standardizing things and ordering systemwide. It expects to save another $70 million in 2013 and 2014.
"We can no longer afford to have the latest and the greatest expensive piece of equipment at every hospital," she said. "And I think you're going to see the trend in the industry where some standalone independent hospitals might merge with hospitals like Scripps. And those are going to have to consolidate their services."