Nomination Deadline Extended for IT Executive of the Year Awards
Monday, February 4, 2013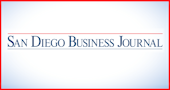 Help us celebrate San Diego's exceptional information technology leaders by nominating your organization's IT wizard. The San Diego Business Journal is currently accepting nominations and the deadline has been extended to Feb. 7.
Cyber security, data management, infrastructure design, cloud expertise — today's technology professionals must possess a mixture of expertise in state-of-the-art know-how and out-of-the-box creativity to manage modern business operations in the digital age. These IT superheroes will be honored in an exclusive program created by the San Diego Business Journal in its sixth annual Information Technology Executive of the Year Awards that includes a recognition ceremony and special in-paper and online supplement.
Fittingly, winners, finalists and guests will be hosted at an official awards event slated for Thursday, April 4, at Balboa Park's popular Reuben H. Fleet Science Center amid interactive exhibits and innovative techno displays. Executives will be honored in a number of categories, chosen by an independent panel of judges known for their expertise in the technology field.
Sponsorship support for this program is provided by ESET, AIS, Robert Half Technologies and SDA Security System.
To nominate: http://sdbj.com/bizevents/nominate-sd-ite
To order tickets: http://www.regonline.com/2013itexecutiveoftheyear