BIOTECH: FIRM VIES WITH ILLUMINA IN RACE TO ENTER CLINICAL SPACE
Life Technologies Still Works at Lowering Cost of DNA Sequencing
Monday, February 4, 2013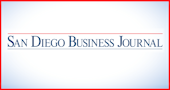 LIFE TECHNOLOGIES CORP.
CEO: Gregory Lucier.
Revenue: $3.7 billion in 2011.
No. of employees: 1,600 in San Diego County; 10,400 worldwide.
Headquarters: Carlsbad.
Year founded: Invitrogen was founded in 1987 and merged with Applied Biosystems in 2008 to form Life Technologies.
Stock symbol and exchange: LIFE on Nasdaq.
Company description: A leading life science tool company.
Key factors for success: Managing a broad portfolio of products that span the entire spectrum of life sciences.
About a year ago Carlsbad-based Life Technologies Corp. predicted its forthcoming Ion Proton machine would be able to sequence the entire human genome in a single day for about $1,000 by the end of 2012.
While the life science firm has made significant progress, analysts said it has yet to achieve this goal.
To date, Life Technologies' machine, which processes DNA on a semiconductor chip, still lags behind its local rival Illumina, the leading maker of DNA sequencing machines. Whether Life Technologies' machine will be able to surpass Illumina's proven MiSeq's camera-based technology remains to be seen, according to two analysts.
 "Life Technologies has told customers that their product will be cheaper and better than Illumina's, but thus far, that has not been the case," said Doug Schenkel, an analyst with Cowen & Co. LLC in Boston.
 "Illumina is technologically and from a market share perspective superior," said Ross Muken, an analyst with the ISI Group LLC in New York.
 Schenkel said while Illumina remains in a strong position as the market leader, Life Technologies has been able to make progress through the acquisition of Ion Torrent's technology.
 "I think it has to be acknowledged that Life Technologies is making a lot more progress than they have with prior platforms," Schenkel noted. Illumina, however, also continues to advance at a rapid pace.
Competing Initiatives Announced
Both companies announced last week rival initiatives with leading medical institutions in Boston to further the development of their sequencing technologies, signaling a continued trend to move their sequencing technologies into the clinical genomics area.
Last week, Life Technologies announced it invested in Claritas Genomics, a new spin-off company of Boston Children's Hospital, to develop uses for clinical genomics.
The news came within hours of Illumina and Partners HealthCare announcing the founding members of the GeneInsight-Illumina Network, a collaborative effort that includes the Mount Sinai Genetic Testing Laboratory, New York Genome Center and ARUP Laboratories. Scheduled to open later this year, the network was created to share clinical data and leverage genomics data, Illumina said.
Until now, DNA sequencing has focused on research studies like the Human Genome Project. But rapid advances in sequencing technologies have made sequencing cheaper, extremely powerful and fast.
 "Ten years ago sequencing cost over a million dollars," Schenkel said. "Today, a person's DNA can be sequenced for less than $10,000. As costs of sequencing come down, you can do more research and learn more, and as you learn more about the meaning of genetic variation, you learn more about the tools."
Practical Applications
Both, Illumina's and Life Technologies' machines can be used to look at a person's genetic blueprint. Both have struck deals with companies that have taken it beyond merely selling their sequencing tools.
"We are in that in-between period where essentially a lot of research is being done, including at teaching hospitals, with the intent to (reach) a clinical breakthrough down the line," Schenkel said.
DNA sequencing is already being used to help doctors guess which cancer drugs would be helpful in fighting a particular cancer, identify the risk of certain conditions or target physical changes with treatment.
Illumina's recent acquisition of Redwood City-based Verinata Health Inc. for $350 million and $100 million in milestone payments gives it control of Verinata's noninvasive test for detecting Down syndrome. The test, called Verifi, uses sequencing to analyze parts of fetal DNA found in pregnant women's blood. The test, however, isn't the first of its kind on the marketplace. Another local firm, Sequenom Inc., introduced the first noninvasive Down syndrome test in October 2011.
Last July, Life Technologies bought San Francisco-based Navigenics Inc., which developed a DNA test that tells doctors if patients have genetic markers for certain diseases.
To date, Illumina's camera-based technology remains the preferred choice by researchers, because it is more accurate and scientifically proven, Muken said. Schenkel said while it is possible that Life Technologies may reach its goal to sequence an entire human genome in a single day for a $1,000 price tag in the second half of this year, "it remains to be seen if they can get there."
"The fast-changing competitive landscape makes it difficult to determine the long-term market share leader," Muken said.
Life Technologies was not available to comment for this article in time for publication. As of press time, Muken assigned Life Technologies an "underweight" rating; Schenkel has a "perform" rating on Life Technologies.
Marion Webb is a freelance writer for the San Diego Business Journal.