TECHNOLOGY: THE INTERNET, GPS, CDMA, AMONG THE EXAMPLES
How Military Technology Changes the World We Live In
Monday, February 4, 2013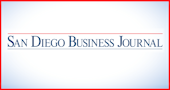 The military frequently adapts civilian technology for its own uses. But the process also works in reverse. Military technology frequently goes commercial.
The Internet started life at the Pentagon in the 1960s with the Advanced Research Projects Agency, or ARPA. The market took the concept and ran with it.
Then there is GPS, the global positioning system, which can pinpoint a person's location on Earth from something only a government can provide: satellites. The technology builds on what was originally military navigation technology.
The jet engine is a third invention developed by the military and widely used commercially. (The supersonic aircraft went mainstream for a few decades, but did not prove to be a commercial success.)
In San Diego, U.S. Navy technicians have laid the groundwork for several businesses.
Frequency Hopping
Code division multiple access, aka CDMA, is a cornerstone for Qualcomm Inc. The technology helped the business to become San Diego's largest public company.
CDMA was originally a U.S. Navy technology, one where a radio signal jumped from frequency to frequency in a predetermined fashion.
There is a Hollywood angle to the story. Actress Hedy Lamarr and avant garde composer George Antheil were pioneers of the concept, receiving a patent in 1942 on something they called the "Secret Communication System." Lamarr and Atheil's patent reportedly said the system would employ player piano rolls to determine which of 88 radio frequencies the sender and recipient would use at a particular time.
Bottom line: Multiple frequencies could be used to carry a single radio transmission, which could perform a military task such as direct a torpedo. The transmission would hop from one frequency to the next, outwitting the enemy.
In the waning years of the 20th century, Qualcomm was able to develop CDMA further to carry voice or data, and build a business on the frequency-hopping concept. Hundreds of companies license Qualcomm's patents, and the company is a prolific microchip manufacturer.
Silicon on Sapphire Wafers
Another San Diego business was able to join the Nasdaq recently, thanks to some long-ago help from the U.S. Navy.
Peregrine Semiconductor Corp. built its business on research that sought to create microchips with a unique combination of materials: silicon on sapphire wafer. The California Institute of Technology and Hewlett-Packard Co. started the work. When they halted, the U.S. Navy labs on Point Loma took up the project, spending about a decade working through technical problems. Subsequently, private investors licensed the patents from HP and, with some help from several large tech companies, created Peregrine Semiconductor. Peregrine went public on Aug. 7.
The company estimated that as of early 2012, more than 1 billion chips had been made using its technology. Peregrine has customers in the wireless telecom, aerospace and defense sectors, among others.
Milestone in 2008
Today the Navy labs are known as Spawar Systems Center Pacific. Spawar continues to license its technology. A milestone came in 2008, when it licensed a package of 60 patents to Elemental Wireless LLC of Delaware.
Assure Controls of Vista is another firm that has licensed Spawar technology.
Spawar scientists made a discovery about a species of plankton that naturally emits blue-green light. They found that the plankton will glow in proportion to the amount of pollution in the water. The more pollution, the less light the plankton will give out. Assure Controls went on to make that the foundation of its QuikLite 200 biosensor system.
Assure Controls said late last year that it entered a cooperative research and development agreement with another federal agency, the U.S. Geological Survey.
Together the private firm and government agency will investigate and develop new sensors and methods to test ballast water. Seawater used to create ballast in ships can carry pollution and transport invasive marine organisms among ports.