HEALTH CARE: MERGER FITS GROWING TREND OF COORDINATING CARE
Alvarado Doctors Alleviate Pressure by Joining Scripps Coastal
Monday, February 4, 2013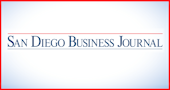 Sustaining a private practice has become increasingly challenging, and more physicians are aligning themselves with larger health systems. Scripps Health has announced that Alvarado Medical Group, a five-doctor outfit that has been in private practice for the past 42 years, will join Scripps Coastal Medical Group on April 1.
"What's happening in medicine as a smaller practice is that it's very hard to compete with the bigger organizations," said Kosala Samarasinghe, a physician with the Alvarado Medical Group. "The financial requirements are huge — with the new electronic medical records, new equipment and new regulations, smaller practices are having a hard time keeping up."

Samarasinghe said that his group approached Scripps about a year ago to discuss a merge — in large part because they were tired of dealing with the mounting business decisions required in maintaining a private practice.
"This way we let the doctors be the doctors, and businessmen and leaders in health care management do the rest," Samarasinghe said.
Samarasinghe said that the group will maintain its current offices and staff, and that its patients will continue to receive the same treatment.
Scripps Coastal Medical Group physicians contract exclusively with nonprofit behemoth Scripps Health through the Scripps Medical Foundation. Alvarado Medical Group will be the tenth Scripps Coastal Medical Center, and is the eighth physician group to join since 2008.
Merger Stokes Rivalry
Scripps Coastal employs 146 primary care providers throughout San Diego County. It was formed in 2008, following a merge between Scripps Mercy Medical Group and Sharp Mission Park.
The move was controversial and fanned the flames of an existing rivalry in North County: In 2009, the board of Tri-City Medical Center sued Scripps Health, citing unfair business practices. It said that some Scripps physicians were preventing their patients from being admitted to Tri-City's Oceanside hospitals.
Similarly, the Alvarado Medical Group's offices are a half-mile west of Alvarado Hospital. Louis Hogrefe, chief medical officer of Scripps Coastal Medical Group, said that while in the past the majority of the five-physician practice's patients were more likely to have been admitted to Alvarado, following the merge more will be sent to Scripps hospitals.
"The Alvarado Medical Group physicians are currently on Alvarado Hospital's medical staff, but the transition to Scripps will have minimal impact on Alvarado Hospital's patient volume," said Alvarado Hospital spokeswoman Laura Gilbert in an email.
But Scripps' acquisition strategy does not indicate any desire to poach patients from other hospital systems, said Thomas Sounhein, CEO of San Diego-based Xi Medical Group Inc., an independent organization with more than 400 physicians in private practice.
"I think for the most part, the focus is on physicians making decisions because they are really not 100 percent certain about what's the best way to deal with the future issues," Sounhein said. "Where the cuts are going to come, how they're going to come, what will be the future of private practice — no one has all the answers. It's a scary, evolving space, and physicians are making decisions on what will work best for their livelihood and their patients."
Wellness Focus Shifts Priorities
Hogrefe said that he predicts that as patient care evolves to a wellness model as opposed to a treat-when-ill model, more and more hospital systems will continue to acquire smaller physician practices.
"I think whether it's a Scripps system or Sharp system — or any other in the country — you'll see that all hospital systems are really diligently trying to improve the quality of care coordination, and work more closely with physicians in the community," Hogrefe said. "I think you'll see this tendency continue because I think it's the right thing to do."
Though financial details of the transaction are confidential, Hogrefe said Scripps Health purchased the assets of Alvarado Medical Group — such as exam tables and office furniture — and will also employ the practice's ancillary staff. Scripps Coastal Medical Group will employ the physicians.
"There's a lot of uncertainty out there — there's going to be an influx of insured patients in the future, and there's not going to be an influx of physicians," Samarasinghe said. "I think what we've taken is a proactive stance on this and gone ahead and secured the future for our patients as opposed to somebody dictating how it's going to happen for us."