DEFENSE: MAGAZINE SAYS CO. BEAT BIG COMPETITORS FOR THE JOB
Northrop at Center of Spy Plane Speculation
Saturday, December 21, 2013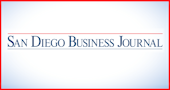 Northrop Grumman Corp.'s new unmanned spy plane has shown up on the radar.
Aviation Week is reporting on the Northrop's stealthy, jet-powered RQ-180 in its Dec. 9 issue, citing unnamed sources in the defense and intelligence communities.
Evidence suggesting the RQ-180 program exists included a $2 billion increase in the backlog of Northrop Grumman's Integrated Systems Division in 2008, the aviation journal said, also noting that recent satellite imagery shows new shelters and hangars at Northrop Grumman's facility in Palmdale and at Area 51 in Nevada. The Air Force uses the latter for flight tests. The new hangars can accommodate an aircraft with a wingspan longer than 130 feet.
Since Rancho Bernardo is Northrop Grumman's center of excellence for unmanned systems, it is reasonable to assume that some of the work on the new aircraft is likely taking place in San Diego County. Northrop Grumman employs 2,200 people in Rancho Bernardo, working on fixed-wing aircraft as well as unmanned helicopter designs. The company builds its aircraft elsewhere.
Northrop Grumman (NYSE: NOC) competed against Boeing Co. (NYSE: BA) and Lockheed Martin Corp. (NYSE: LMT) to eventually win its work on the RQ-180, the aviation journal said.
The news comes at a time when the future of Northrop Grumman's unmanned Global Hawk spy aircraft is in question. Some in the U.S. Air Force no longer want to use the Global Hawk. Air Force commanders have proposed cutting future orders and putting practically new aircraft in mothballs. Meanwhile, Northrop Grumman is working on a U.S. Navy version of the Global Hawk and is marketing the design to U.S. allies as well.
Aviation Week reports that the classified RQ-180 aircraft is shaped like a "cranked kite." It's the same shape Northrop Grumman uses for its X-47 unmanned aircraft, which has been flying off and landing on aircraft carrier decks. On both designs, the body and wing are melded together in a bulbous midsection. The aircraft's body resembles the diamond shape of a kite, with wing extensions to either side.
The new, stealthy aircraft would probably be able to stay in the air 24 hours and could operate in contested airspace. The Air Force's current unmanned spy aircraft, such as the Global Hawk and General Atomics Aeronautical Systems Inc.'s Reaper, are best for uncontested skies over places such as Iraq and Afghanistan, according to the aviation journal.
Aviation Week commissioned an artist to produce illustrations of what the RQ-180 might look like, ending up with a boomerang-shaped craft.