Nonprofit Profile: Kris Michell
Saturday, December 21, 2013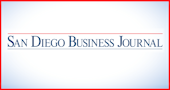 Kris Michell took the roles of president and CEO of the Downtown San Diego Partnership in the beginning of 2011. Her experience includes working for both former Mayor Jerry Sanders and former Mayor Susan Golding as chief of staff.
Michell's experience with downtown San Diego also includes her tenure as vice president of governmental relations for the San Diego Padres, where she coordinated the campaign supporting the ballot measure that led to the development of Petco Park in downtown's East Village.
The Downtown San Diego Partnership is an advocate for the branding, revitalization, economic vitality and growth of downtown San Diego. The organization — founded in 1993 by a merger of the San Diego Downtown Association/Central City Association and San Diegans Inc. — reports having more than 325 members representing a variety of business sectors.
RESUME
Name: Kris Michell
Organization: Downtown San Diego Partnership
Titles: President and CEO
No. of employees: 112, including Clean & Safe maintenance and safety personnel
Year founded: 1993
Education: San Diego State University
Birthplace: San Diego
Age: Yeah right
Family: Husband, Mitch; mother, father, step-mother, seven brothers and sisters, and many nieces and nephews
PROFESSIONAL PHILOSOPHY
Essential working philosophy: Do something you are passionate about and you never have to work a day in your life.
Best way to keep a competitive edge: Always be informed; know what is going on and how you can help a situation.
Guiding principles: Build the right team and you will accomplish your goals.
Yardsticks of success: Receiving positive feedback from residents and businesses in downtown from the work of our team.
Goals yet to be achieved: For downtown: ending homelessness, establishing a circulator shuttle, improving connectivity for parks and open space, leasing remaining office space, and continuing to improve our urban center.
JUDGMENT CALLS
Best professional decision: Accepting this position at the Downtown San Diego Partnership.
Toughest professional decision: Leaving the office of Mayor [Jerry] Sanders to accept this position.
Biggest missed opportunity: Not buying property in downtown sooner.
Mentor: My mom. She is a sharp, hardworking woman who taught me countless life lessons.
Word that describes you: Tenacious.
TRUE CONFESSIONS
What you like best about your job: The board and staff at the Partnership.
What you like least about your job: We are a not-for-profit, and we do not have deep pockets. Many solutions to the challenges we face in downtown need a consistent stream of funds.
Pet peeves: Littering — there are garbage cans on every corner.
Most important lesson learned: There are many challenges, but we need to focus our efforts in order to achieve success.
Person most interested in meeting: The Dalai Lama.
Three greatest passions: Family, friends and San Diego.
First choice for a new career: A professional world traveler.
PREDILECTIONS
Favorite quote: "A business has to be involving, it has to be fun, and it has to exercise your creative instincts." — Richard Branson.
Most influential book: "The Rise of the Creative Class" by Richard Florida.
Favorite status symbol: The friends and colleagues who surround me.
Favorite restaurant: Blue Point Coastal Cuisine.
Favorite place for business meetings: We have an eclectic mix of options in downtown.
Favorite vacation spot: Costa Rica and San Diego.
Favorite way to spend time: Walking along the beach with Mitch and our dog, Cody.