PROPERTY: REGULATORY OK OPENS AREAS TO MIXED FACILITIES
Brewers Get a Bigger Welcome Mat in City
Saturday, December 21, 2013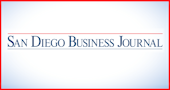 The California Coastal Commission has granted authority to the city of San Diego to allow restaurants and tasting rooms at microbreweries in coastal industrial zones, as the city aims to compete for its share of new businesses in the burgeoning craft beer industry.
While no formal projects have been put forward, the coastal panel's blessing allows for future craft-beer production facilities — if they are at least 12,000 square feet — to also include an accessory tasting room or eatery that takes up no more than 25 percent of the manufacturing area's total space.
As a result of the city code change, coastal-adjacent neighborhoods that could get new brewery businesses down the road include Barrio Logan, downtown San Diego, Pacific Beach, Torrey Pines and San Ysidro. There are no existing microbreweries in those neighborhoods that would meet the 12,000-square-foot requirement for adding amenities, but city officials note that a prospective developer in the future could assemble the needed acreage to propose a microbrewery with a restaurant or tasting room.
Visitor-Serving Uses
Under the California Coastal Act, restaurants and tasting rooms are viewed as priority, visitor-serving uses, as an amenity to support coastal visitors and activate coastal destinations. Coastal panel approval essentially puts the city's coastal-adjacent regions in line to get projects now possible in the rest of San Diego.
City officials earlier this year approved amendments putting the same code changes in place for San Diego's noncoastal industrial zones.
Land-use code revisions are aimed primarily at clarifying what's allowed and what isn't, as San Diego County's cities deal with rapid growth in craft beer brewing. The region has about 80 craft beer-making companies, about half of which were licensed in the past two years.
City officials said San Diego is looking to avoid ambiguity in its zoning codes, as it competes with North County cities and those in neighboring counties to attract brewing-related jobs and tax revenue.
"We wanted to make sure we weren't impeding things if a brewing company wanted to locate one of these facilities in the city," said Russ Gibbon, business development manager for the city of San Diego.
The changes will not affect communities with development regulations in place that essentially make large industrial facilities nonexistent, such as La Jolla Shores and much of Carmel Valley and Mission Valley, Gibbon said.
But clarification was needed to ensure that something is in writing to cover brewery-related amenities, in the event that projects are opposed by residents living near the city's industrial zones. Restaurants, for instance, have greater requirements than manufacturing facilities for parking and related traffic abatement.
Gibbon said the West Coast in particular has seen a sharp increase in restaurants attached to brewing facilities over the last few years.
Breweries Fuel Development
Wooing brewers has become a big part of economic development efforts in cities such as Vista, San Marcos and Escondido. Vista officials, for example, have placed particular emphasis on bringing microbreweries into its office and industrial parks, as well as its downtown business district.
Local beer brewing has spawned related development in numerous combinations. There are now several industrial sites with tasting rooms, restaurants with on-site brewing facilities, and bars and eateries with retail bottle and merchandise sales — all operated by local brewing companies.
"You'll probably be seeing more cities moving to codify this in the future, just so everybody knows in writing what's allowed and what isn't," said Todd Davis, senior vice president in the Carlsbad office of brokerage services provider Cassidy Turley.
A midyear 2013 forecast by Cassidy Turley projected that brewers would account for nearly 5 percent of all demand for new industrial space in San Diego County over the next 12 to 24 months. That would mean about 215,000 square feet of needed new space.
Gibbon said San Diego's recent code changes are designed to allow other parts of the city the chance to experience compatible, microbrew-related growth like that now playing out in industrial neighborhoods along Interstate 15, such as Scripps Ranch, Mira Mesa and Miramar.
Most recently, locally based Ballast Point Brewing & Spirits signed a long-term lease and began renovation-related construction on a new Miramar brewery that will be its fourth location in the city — and its largest.
Company officials said the nearly 107,000-square-foot building, at 9045 Carroll Way, will have 18,000 square feet of retail, including a tasting room and restaurant, with another 18,000 square feet of mezzanine-level offices. The company plans to begin brewing operations in the first half of the new year, with the retail and office space to follow in late 2014.
"There was a time, even very recently, when we couldn't dream of a brewery this size," Jack White, Ballast Point's CEO and founder, said in a statement. "After nearly 20 years, this is truly a new frontier."