Survey Sees Boost in Business Optimism
Thursday, December 19, 2013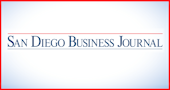 A monthly forecast of local business sentiment rose to a new high in November after declining for the prior two months.
The San Diego County Business Forecast, sponsored by Silvergate Bank, rebounded from 18.6 in October to 29.4 in November, beating the previous high of 28.8 in August, according to the San Diego Regional Chamber of Commerce, which oversees the survey.
All four of the components used to gauge business confidence—revenue, business conditions, employee hours, and number of employees — had an increase, said the report on the survey's findings.
Competitive Edge Research, a local market research firm, used responses from 237 randomly selected members of the San Diego Regional Chamber of Commerce and the San Diego East County Chamber of Commerce during Nov. 11-18 to obtain the recent forecast.
The component that showed the biggest increase last month was in the outlook for employment hours, with the number of companies saying they planned to increase worker hours rising to 35 percent, compared with the prior month when 21 percent said they planned to increase worker hours.
The survey found that the top two issues of concern to businesses are Obamacare and dealing with government regulations. Nearly 30 percent of those responding admit they are not familiar enough with the Affordable Care Act to know how it will affect their business.
Nearly 40 percent said the reform will make things worse for them, while 14 percent said it will make things better, the report said.
Jerry Sanders, the regional chamber's CEO, said the last several surveys showed how susceptible businesses are to both local and national events.