Local Groups Tap Lobbying Firm to Enhance Political Influence
Tuesday, December 17, 2013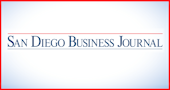 The San Diego Regional Chamber of Commerce and Connect have partnered to hire a Sacramento lobbying firm Rose & Kindel / Grayling to provide greater influence in statewide policies that affect the regional business community.
Among the key focus areas are environmental regulatory reform, enhanced funding for infrastructure and transportation projects particularly for the border and a binational railroad, water issues, and an enhanced driver's license bill.
In addition to influencing policy creation, the lobbying firm aims to help the chamber and Connect, a local high-tech trade group, increase awareness among officials. The firm will also coordinate an annual trip by the chamber to meet with key political officials.
Prior to this contract, the chamber didn't have a registered lobbyist in Sacramento for nearly a decade. Rose and Kindel/ Grayling was selected through a competitive contract process and began work Dec. 1. The financial terms of the one year contract were not disclosed.