City Council to Revisit Barrio Logan Zoning Issues
Monday, December 16, 2013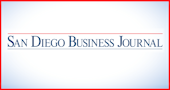 The San Diego City Council is scheduled to decide on Dec. 17 whether to send its plan to rezone Barrio Logan to the city voters.
Alternately, the council can reverse itself on the zoning decisions it made in September. The council approved a new community plan for the neighborhood that attempts to better separate housing and heavy industry, which in some cases sit side by side in the neighborhoods under the San Diego-Coronado Bridge.
The business community says the plan imposes too many restrictions on business, and mounted a signature-gathering campaign to put the issue on the ballot. A stop at the City Council is one step toward that goal.
Speaking to members of the media on Dec. 16, City Councilman David Alvarez said the council's plan was "a true compromise" between business and environmental groups. "Not one job will be lost. Not one business will be forced to relocate," said Alvarez, who represents Barrio Logan on the council and who is running for mayor.
Industry groups say the zoning plan is "flawed" and a first step toward eliminating San Diego shipyards.