LUXURY REAL ESTATE COLUMN
Rancho Santa Fe Home Prices Top Million-Dollar-Plus Market
Saturday, December 14, 2013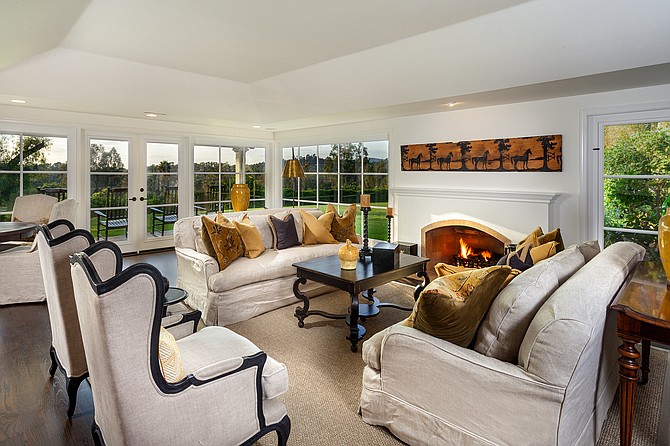 Editor's note: This week the San Diego Business Journal introduces a new column on the luxury residential real estate market by Senior Editor Stephanie R. Glidden.
Rancho Santa Fe is home to some of the most beautiful and expensive real estate in the world, but prices there haven't exploded as they have in some other high-end California markets. According to a recent Coldwell Banker annual home listing report, Rancho Santa Fe did not rank in the top 25 of the most expensive housing markets in the U.S.
Jason Barry of Barry Estates Inc. corroborates this, saying there is still great value — relatively speaking, of course — in Rancho Santa Fe versus other higher-priced California beach markets like Malibu and Newport Beach, Coldwell Banker's No. 1 and No. 2 markets, respectively. Eleven other California cities were ranked in the top 25 before Rancho Santa Fe.
While Rancho Santa Fe doesn't crack this top 25, the two ZIP codes that define it had the highest median home prices in San Diego County through Nov. 30 — $2.3 million in 92067, up 5 percent from the same period in 2012, and $2.25 million in 92091, up 28.9 percent, according to data provided by the San Diego Association of Realtors.
The 92067 ZIP code generally encompasses what is referred to as the "covenant," formally known as The Rancho Santa Fe Protective Covenant, which is a type of homeowner association and review committee formed in 1928 to ensure the quality and style of the area. The 92091 ZIP code generally refers to the communities outside the covenant, such as Morgan's Run and The Bridges.
Barry said inventory in this market is 30 percent lower than it was a year ago, which has created an active and competitive market.
Barry is in a position to know this market as well as anyone. Barry Estates is a family-owned agency that has been in Rancho Santa Fe since the mid-1980s. Jason Barry is a partner with is mother, Catherine, who founded the agency with her husband, Daniel, the broker of record.
Unlike other markets in the U.S., most of the buyers in Rancho Santa Fe are still relatively local, consisting largely of move-ups or second homebuyers nearby, Barry said.
"The major buying activity from Europe and Asia as reported elsewhere is primarily happening in Los Angeles and New York," Barry said.
Barry has a 12,521-square-foot home in The Bridges of Rancho Santa Fe in escrow. The property is on three flat acres with a seven-bedroom main house, seven full baths, three half baths, two laundry rooms and a pool pavilion overlooking the golf course. The list price is $9.69 million.
"We're very optimistic for 2014," Barry said.
• • •
Two major leading indicators that the Rancho Santa Fe market is improving are the average time on the market, which declined from nine months to six months, and the median discount from original price, which declined from 16.25 percent to 9.05 percent, according to an analysis by Linda Sansone of Linda Sansone and Associates.
"Not only did more sellers sell their homes, but they sold them faster and got closer to their asking price than sellers in 2012," said Sansone, a licensed real estate broker with Willis Allen in Rancho Santa Fe. She also reports that sales there are up 21 percent through the first nine months of 2013 compared with the same period last year.
Sansone, a CPA with a master's degree in accounting and 16 years of experience representing buyers and sellers, is the editor and writer of a comprehensive analysis of the Rancho Santa Fe market. Sansone's analysis covers all attached and detached homes in Rancho Santa Fe.
Sansone divides the market into three submarkets: less than $3 million, $3 million to $5 million, and $5 million or more. The less-than-$3 million market had the largest appreciation in median price at 9.4 percent, primarily due to lower supply and higher demand. The number of properties sold in this category increased 25.6 percent.
The $3 million-to-$5 million submarket is also seeing a recovery, with the number of properties sold increasing 36.6 percent, the highest increase of any submarket in Rancho Santa Fe.
The more-than-$5 million submarket is the only one to have fewer sales in 2013 compared with the same first nine months of 2012. The median price, however, remained almost flat, declining 1 percent.
"While submarkets below this [most expensive] market may be confronted with fair market issues as their markets heat up, this market appears to be offering buyers values that may not be seen in a long time," Sansone said.
Email information regarding sold listings and other market data about the luxury real estate market to Stephanie R. Glidden at sglidden@sdbjcom.