BIOTECHNOLOGY/HEALTH CARE COLUMN
Otonomy Progressing With Treatments for Ear-Related Ailments
Saturday, December 14, 2013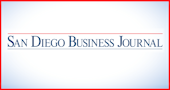 A company that's been on my radar, Otonomy Inc., just received fast track designation from the Food and Drug Administration for its treatment of Ménière's disease — a condition of the inner ear that causes vertigo, hearing loss and tinnitus.
The private company is well-funded, having raised nearly $100 million since 2010 — including a Series C round in September for $45.9 million. The company was co-founded by San Diego venture capital veteran Jay Lichter, a managing partner at Avalon Ventures.
It's an interesting story. Lichter was diagnosed with Ménière's about five years ago, and when he found there was limited treatment available, he created Otonomy. Fast forward to now, and the company has hit late-stage clinical trials with some exciting new therapies.
The company has two drug candidates in clinical development that are advancing to late-stage trial: a steroid that treats vertigo in patients with Meniere's disease and an antibiotic for children with chronic ear infections. Otonomy is also developing products for tinnitus, which causes ear ringing, and chronic forms of hearing loss.
I spoke with President and CEO David Weber about the company's plans. It's toying with the idea of going public, as well as partnering with larger pharmaceutical companies, while attracting an acquisition isn't on the horizon yet, he said.
Otonomy will likely keep its sales force in-house, as there are only about 2,500 ear, nose and throat specialists who would actually be able to use the company's products. Weber said the idea, presuming the drugs are cleared by the FDA, would be to create a small but knowledgeable U.S. sales force to target this niche of specialists.
"This is something we see ourselves commercializing on our own in the U.S., but there's opportunity to find partners in Asia and Europe," he said.
• • •
San Diego-based CareFusion Corp. is investing $100 million in Israeli pump maker Caesarea Medical Electronics, acquiring a 40 percent minority stake of the company.
Caesarea makes infusion and syringe pumps that are sold in about 60 countries, CareFusion said in a statement. CareFusion (NYSE: CFN), an $8.41 billion market cap company, develops medical instruments to be used primarily in surgery.
This is the company's second big-ticket investment in the past month, having recently announced that it would buy the Vital Signs division of GE Healthcare for $500 million.
"Health care is consolidating, making consolidation critical to remain competitive and to grow," Chairman and CEO Kieran Gallahue said during a recent call with investors.
CareFusion spun off from Dublin, Ohio-based Cardinal Health Inc. (NYSE: CAH) in 2009 and has since shown impressive growth — divesting itself of several of its business lines while adding and investing in others. The $8.2 billion market cap company employs about 15,000 around the globe, with customers in more than 120 countries.
The Caesarea investment "creates a strategic, long-term relationship" that is "very complementary" to CareFusion's infusion pump portfolio, Gallahue said.
By putting the company's "balance sheet to work through strategic investments," CareFusion will create opportunities to "drive growth for the company in new markets and outside the U.S.," he added.
• • •
San Diego life sciences software company Accelrys Inc. acquired Ireland-based Qumas for $50 million in cash.
Accelrys (Nasdaq: ACCL), a $499 million market cap company, develops software to help optimize laboratory research processes — enabling scientists to access, organize, analyze and share data. It said the Qumas acquisition will help expand its informatics portfolio. Qumas develops compliance software that helps support regulatory and quality operations in life sciences and other such highly regulated industries.
It employs 152 in San Diego and, after the acquisition, will employ 740 globally — bringing on about 100 employees split between Qumas' offices in Jersey City, N.J., and Cork, Ireland.
This is Accelrys' fifth and largest acquisition in two years. In 2012, it acquired Hopkinton, Mass.-based VelQuest Corp. for $35 million and Lafayette, Colo.-based Aegis Analytical Corp. for $30 million. This year, it has also acquired Swiss biosciences software company Vialis AG for $5 million and Fairfield, Calif.-based ChemSW Inc. for $15.3 million.
• • •
In San Diego, one expects a constant stream of biotech-related conferences and networking events, yet I've been a particularly busy bee of late. Notably, the recurring theme at events like San Diego Innovation Night at the La Jolla Playhouse, the Biocom Annual Dinner and the Connect Most Innovative New Product Awards has been to pay tribute to Duane Roth, the former CEO of Connect, who died Aug. 3 from injuries sustained in a bicycling accident.
At the Connect awards ceremony, which was attended by more than 700 San Diego scientists and entrepreneurs, Roth was posthumously honored for his contributions — an award that was renamed "The Duane Roth Distinguished Contribution Award for Life Sciences and Technology Innovation."
Send news about locally based health care organizations, biotech and clean tech to Meghana Keshavan at mkeshavan@sdbj.com. She can be reached at 858-277-6359.