TECH: USING PERSONAL DEVICES FOR WORK CREATES COMPLEXITIES
IT Innovations Arrive; IT Challenges Follow
Saturday, December 14, 2013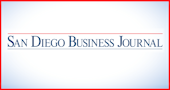 In today's business-computing, it's about both the journey and the destination.
The proliferation of personal devices and their increasing use at work have changed the journey, while cloud computing has changed the destination of data.
As the computing landscape shifts, the winners are pretty apparent. They are the information technology service businesses who have mastered the cloud and can guide businesses through the dangers and demands of the "bring your own device" (BYOD) revolution in which businesses are increasingly letting employees use their personal smartphones, tablets and laptops for work.
Jim Matteo, CEO of San Diego-based Bird Rock Systems, is optimistic about both trends. Matteo said that in 2014, he anticipates doubling his work in cloud computing.
The same holds true for BYOD. "It's certainly a hot area right now," the CEO said.
In the past, companies maintained their wireless networks for laptop computers. Now Bird Rock Systems and its peers must maintain wireless networks that support "a proliferation of devices," Matteo said.
Eric Rockwell, president and chief information officer of Kearny Mesa-based centrexIT, said he expects the bring-your-own-device business to increase 40 percent in the new year.
David J. Davis, CEO of StarPoint Advantage in Old Town, says he expects his BYOD business to increase 20 to 40 percent during 2014. BYOD is on the upswing now that applications are becoming tablet-centric, Davis said.
Playing Defense
BYOD involves some degree of risk, so vendors have to be good at security.
Companies that allow BYOD — and that share their in-office networks with guests — absolutely must keep privileged data privileged, said panelists during a forum on the topic presented by the telecom group CommNexus this year.
Clive Harrison, vice president with centrexIT, notes that many businesses must comply with government regulations about data privacy. Medicine is one field where the regulations are strict. Defense contracting is another.
Davis noted that many of his clients are law firms, which must deal with private information.
Harrison said that for some clients, centrexIT advises against BYOD, preferring to keep the client on company-provided equipment.
Vendors must also consider a related area: contingency planning.
The tricky question about bringing one's computer to work is what happens when the employee leaves the company, on good terms or otherwise. Will that person still have access to company data?
Many of the executives interviewed said there is technology that can wipe corporate information off a personal device by remote control — and in many cases leave personal information intact.
Coming to market soon, Rockwell said, are devices where users log in separately for personal or business use. Logging into a personal account would bring up applications such as Facebook or a digital wallet. Logging into the business account would bring up business-related applications such as email.
If a person leaves his job or loses the device, the business-related information can be remotely wiped or removed, Rockwell said.
"All operating systems are moving in that direction," he said.
Bird Rock's Matteo observed that employees who use their own devices tend to take better care of the hardware.
The topic of cloud computing is not entirely new.
It's been around for years under various names such as "colo hosting," Rockwell said. He said he expects his business will increase its work in public and private clouds by 50 percent in 2014.
In cloud computing, data sits off a company's premises in a data center. In public clouds, data center tenants share resources such as storage and a firewall. Private clouds run on dedicated infrastructure inside a data center.
Cloud computing is getting more attractive because businesses are getting faster telecom connections to access their remote data, Rockwell said.
How else will IT services make their money in 2014? The old-fashioned way: There ought to be work in the more established forms of computer technology. Davis said that desktop computers will not be going away.