ViaSat-powered Wi-Fi Service Takes Flight on JetBlue
Thursday, December 12, 2013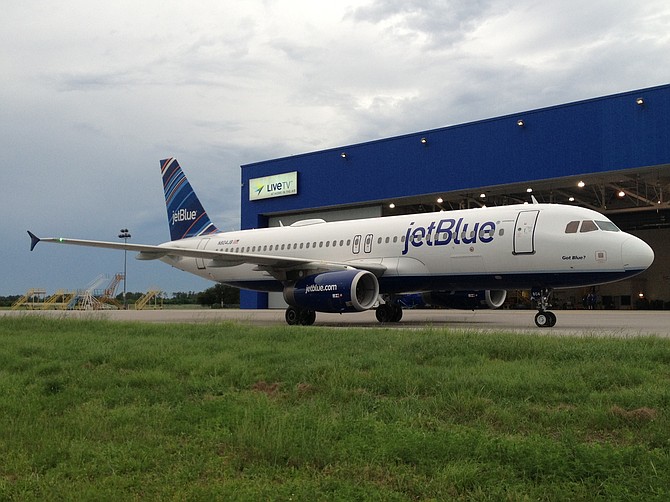 A speedy, in-flight Wi-Fi service that debuted Dec. 12 on JetBlue Airways uses electronics from Carlsbad-based ViaSat Inc. and leverages a ViaSat satellite.
JetBlue (Nasdaq: JBLU), which has a $20 million contract with ViaSat for a service called Exede, said it is the first airline to offer it — reported to be eight times faster than older in-flight connections.
ViaSat (Nasdaq: VSAT) said in June that it plans to bill the airline for bandwidth charges based on the service "take rate" for each flight.
The Exede system, branded as Fly-Fi on JetBlue flights, bounces signals off the ViaSat-1 satellite. JetBlue has three planes with Fly-Fi equipment and will have five by the end of the year, the airline said; it plans to have 140 aircraft so equipped by the end of 2014.
ViaSat said the system delivers data at 12 megabits per second — faster than many terrestrial, wired Internet services. The company said the service can maintain such speeds with 50 to 70 personal devices connected simultaneously on each flight. In a Dec. 12 announcement, ViaSat said it is keeping its promise about providing high-speed service.
JetBlue said it would offer basic Internet service for free through June. It will charge $9 per hour for services such as streaming video and large file downloads.
ViaSat-1 is a Ka-band satellite. Its spot beams can reach most of the continental United States, Alaska, Hawaii and Canada.
ViaSat's Exede isn't the only thing flying high for the company of late. In November, it reported fiscal 2014 second quarter net income of $1.9 million, a marked improvement from its net loss of $7.9 million for the like quarter of last year.