San Diego Workforce Partnership Adds 7 to Its Investment Board
Sunday, December 8, 2013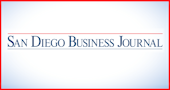 The San Diego Workforce Partnership, the regional job training agency, added seven new members to its investment board.
They are Karen Brailean, COO of Barc Inc; Ray Ellis, principal Ellis & Associates LLC; Rosa Ana Lozada, CEO of Harmonium Inc.; Marc Martin, vice president, Karl Strauss Brewing; Stormy Miller, resource coordinator, San Diego Regional Center; Paul Roben, senior director, Salk Institute for Biological Studies; Adam Shapiro, dean at Cal State San Marcos; and Karen Winston, vice president, Connect.
The investment board provides recommendations and oversight for funding and policy development to the agency; its members serve alongside other community leaders representing all areas of the county. The 49 members include representatives from business, education, community-based organizations, organized labor, and advocates for workforce development.
In addition to an investment board, the agency has a five- member policy board made up of two members of the San Diego City Council, two members from the San Diego County Board of Supervisors and one community representative.
The agency said it will deploy some $35 million from its primarily federal tax supported budget to job training programs.
— SDBJ Staff Report