PROPERTY: HOTEL COMPLEX, EATERY MAY BE FINISHING TOUCHES
Liberty Station Has Room for a Bit More
Saturday, December 7, 2013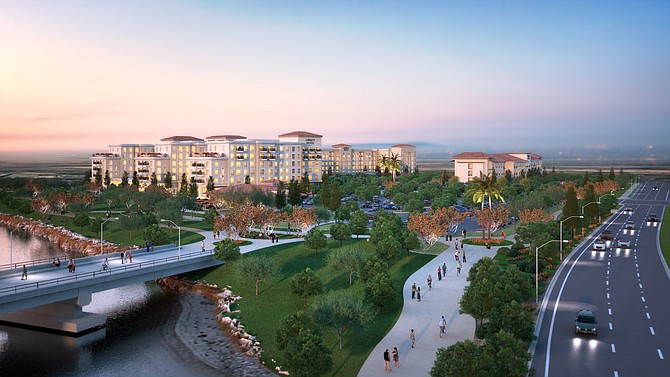 Corky McMillin Cos. has plans for a $100 million, three-hotel project at the mixed-use Liberty Station in Point Loma, which represents the final phase of a decade-long transformation of the former naval training center site.
"It's pretty much the last development frontier for Liberty Station at this point," said Joe Haeussler, senior vice president with the San Diego-based company, which has previously overseen and built residential, retail and office components as master developer of the 360-acre property.
The California Coastal Commission is scheduled on Dec. 12 to review McMillin's plans for a 650-room hotel complex, proposed for a 15-acre section on the northeastern portion of the property near San Diego International Airport.
While branding has not been finalized, plans call for three hotels, with 252, 215 and 185 rooms, ranging in height from 65 to 80 feet. The properties are expected to include an all-suite hotel, along the lines of an Embassy Suites; an extended-stay hotel with in-room kitchenettes, such as Residence Inn by Marriott; and a property with standard rooms and suites, such as Hampton Inn.
McMillin also proposes a one-story, 3,180-square-foot restaurant; a 150-foot-wide public esplanade with recreation areas and public seating; and a pedestrian-bicycle path with bike racks. The project includes 701 parking spaces, traffic improvements to nearby Kincaid Road, a connection to Spanish Landing park, and related landscaping and grading.
Public Access Planned
The development will provide the "missing link" to an existing bicycle and pedestrian path that connects Liberty Station to Spanish Landing underneath Harbor Drive, McMillin senior vice president Kim Elliott said. On completion, the 4-mile path will run from the north end of Liberty Station all the way to the San Diego Convention Center.
The planned restaurant will face the public esplanade and create a water-view dining option for hotel guests and the public, Elliott said.
Company officials said the proposal also entails demolition of an existing commercial parking lot that serves the airport, currently being leased by WallyPark.
Haeussler said McMillin is evaluating whether to build the hotels itself or contract with other developers. Once final approvals are obtained, McMillin is looking to start construction in late 2014 and have the first hotel ready to open in 2016.
The former naval training center site, off Rosecrans Boulevard, is owned and overseen by the city but falls within the Coastal Commission's permit jurisdiction over public trust lands.
The 360-acre Liberty Station is part of a larger 550-acre expanse that housed U.S. Navy personnel and training facilities for much of the 20th century. The military ceased formal operations there in 1997, and the property was acquired incrementally by the city.
The property has since been developed jointly by the city's redevelopment agency and McMillin Cos. NTC Foundation, a nonprofit organization, has been developing the property's arts and cultural district, where museums, dance studios and related programs are operating.
Much of the work at Liberty Station has involved renovating and preserving existing buildings at the historic site. Several retailers and restaurants have joined the merchant roster over the years, including Trader Joe's, Vons, Corvette Diner and, most recently, a large new brewery restaurant operated by Stone Brewing Co. of Escondido.
Liberty Station now has more than 140 commercial and nonprofit tenants, including Rock Church and several educational institutions, such as High Tech High International.
In Talks to Fill 40,000 Square Feet
The proposed new hotels would join two others already operating at Liberty Station off Rosecrans: Homewood Suites by Hilton and Courtyard by Marriott.
On-site office buildings at Liberty Station house numerous local and global companies, including McMillin's headquarters and operations of several defense contractors. Haeussler said office spaces there are nearly fully occupied, and the developer is in talks to fill about 40,000 square feet of retail and other commercial spaces in existing portions of Liberty Station.
In addition to the commercial development, the former NTC property now has more than 125 acres of completed parks and open space, a nine-hole golf course, six schools and 350 completed residential units, including homes and condominiums.
The city has projected that by the time the former Navy land is fully built out, the redevelopment will generate more than 8,000 permanent jobs, $215 million in yearly property tax increments and nearly $6 million in annual hotel taxes.