TRANSPORT: IMPROVING CROSS-BORDER ROUTES IS KEY PART OF INCREASING COMMERCE
The Trade Routes
Monday, August 26, 2013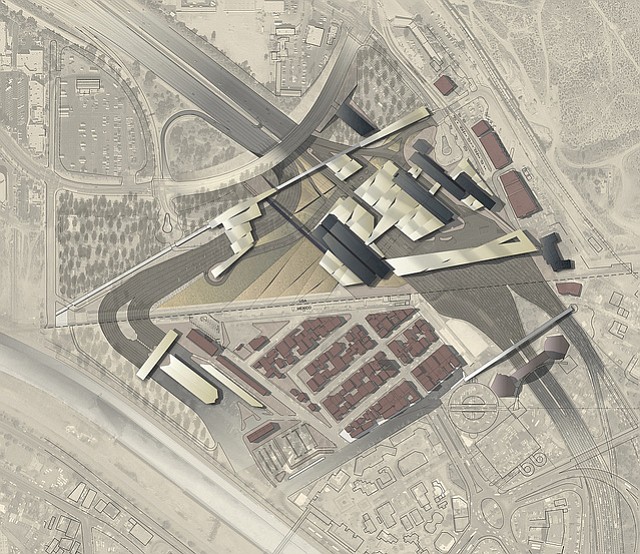 A handful of infrastructure projects related to cross-border transportation are expected to improve congestion at the three San Diego-area ports of entry, officials hope.
Among them are reconstruction of the century-old, 150-mile cross-border San Diego & Arizona East Railway from Tijuana to Imperial County; the San Ysidro Land Port of Entry Project; and a second truck border crossing east of the existing Otay Mesa crossing.
Each weekday, hundreds of commercial trucks — ladened with finished goods from dozens of manufacturing plants known as maquiladoras, which line the border — wait up to two hours and longer at the Otay Mesa Port of Entry to cross into the U.S. from Mexico. Public officials fear such delays will worsen as the economy improves.
If wait times increased just 15 minutes on average at each of the three San Diego ports of entry, $1.2 billion could be lost in goods and services, according to Sandag, a regional government agency.
Critical Cross-Border Link
One of the more ambitious projects is the railway reconstruction project for the now-defunct Desert Line, originally built by John D. Spreckels in 1906.
In December 2012, the San Diego Metropolitan Transit System approved the Desert Line operating agreement and leased the U.S. portion of the line to San Diego-based Pacific Imperial Railroad Inc., which is planning to make improvements over the next few years.
An operator in Mexico has similar goals to upgrade the track for commercial operations.
Once repairs are complete, the Desert Line will provide a much needed link for supply and finished products between the United States and Mexico.
Manufacturing Is Coming Back
Efrain Ibarra Jr., program manager and binational affairs program liaison with the South County Economic Development Council, said efforts to ease transportation bottlenecks become more important as more companies return production from China to their Mexican maquiladora plants.
Much of the product of those plants flows back to the U.S. for distribution worldwide.
"Manufacturing has been coming back steadily for the past three years as manufacturers — particularly in electronics and medical devices — bring back lines of production," Ibarra said.
The trend, he said, reverses the period from 2002 to 2004 when the Baja region lost 150 companies and 35,000 jobs to China.
"They're coming back to Mexico because Mexico is cost competitive with China," he said. "There is no reason to have production in China when you can do the work here."
Opportunities in Automotive
Ibarra said reconstruction of the rail line, which might cost $120 million to $180 million, could lure more manufacturers to Mexico, especially in the automotive sector.
Ibarra noted that Toyota alone could save $30 million a year in transportation costs, money that could be re-invested to expand facilities and add jobs.
Automakers in Mexico predict they'll double output over the next 10 years, putting added demand on distribution systems for supplies and materials as well as shipping the new vehicles to market.
"The supply chains associated with the manufacture of automobiles is substantially larger than those associated with such industries as electronics and aerospace," Ibarra said.
Expansion Will Add Jobs
San Diego would also benefit, he added, since 90 percent of all supplies headed to the maquiladoras in Tijuana are shipped in from California, a value set at $17.5 billion a year.
"The implication for suppliers in Southern California would be enormous" if those auto manufacturing plants south of the border were to double production, Ibarra said.
"It's critical because our window of opportunity is short; If we wait, and try to do it five years from now, we've lost," Ibarra added. "We need to bring a mega-regional approach to getting this project completed."
Christina Luhn, executive director of the Calibaja Bi-National Mega-Region Initiative, said the rail line is important not just to San Diego, but to the regional economy.
A viable rail connection to the U.S. enables the Baja region to compete for more of the heavier manufacturing, such as that found in the automotive industry, she said. In turn, having several clusters of such businesses close by makes it easier to attract more first- and second-tier suppliers.
"Manufacturers like to have their suppliers close by," Luhn said. "And they like to have their suppliers distributed on both sides of the border in case of disruptions."
Proposed Pedestrian Crossing
Another project that should help boost the bi-national regional economy is the proposed construction of a $14 million pedestrian border crossing between Otay Mesa and Tijuana's international airport, which could get underway as early as October and open in late 2014.
James Clark, who runs the San Diego Regional Chamber of Commerce's Mexico Business Center, said completion of the project "completes" San Diego's airport transportation system.
"Because Tijuana has a 24-hour airport, because it has a longer runway and because it has extensive facilities, it gives us a complete air travel system," he added. "It's right there — right on the border — so you can park your car and fly out of Tijuana."
"The big advantage on the other side of the border is that more jobs are created," he said, further strengthening the region's economic base. "Of course, jobs are created here too."
Meanwhile, officials at all levels are pushing forward with plans to build a second Otay Mesa crossing that will include an extension of State Route 11 to State Route 125 and Interstate 905, and connect to Tijuana's network of freeways and highways.
That project is expected to reduce the two-hour wait times required for U.S. customs inspections.
Michael Murphy — who heads Murphy Development Co., which is developing a new $300 million, 3.2 million-square-foot Brown Field Technology Park — noted that completion of this new border port of entry could further strengthen Otay's bustling economy.
Low Cost Appeal
Industrial tenants are attracted to Otay by factors beyond its proximity to the border, such as a lower cost of doing business.
"The primary consideration is not always Mexico, but low operating costs," Murphy said.
Also, the Otay Mesa area is the last remaining pocket of land available at the lowest price for industrial and warehousing in the county, which becomes an important consideration as the economy recovers from the downturn of 2008 and 2009.
"The market has definitely improved," said Murphy, noting that vacancy levels are back to single digit levels. "This means that more build-to-suit buildings will be appearing, as there is no land for such uses in the rest of San Diego County."
The area already has some big players, including a unit of Tyson Foods, which moved into a build-to-suit food processing plant in Murphy's 14-year-old, 155-acre Siempre Viva Business Park. Military shipbuilder General Dynamics Nassco, which has a shipyard on the bay in downtown San Diego, moved its local administrative offices into a 225,000-square-foot building in the same business park, he said.
The Tyson plant, which makes Mexican food products, employs 600 workers, making it one of the larger private employers in the area.
"They wanted access to the big labor pool around Otay," Murphy said.
'Always About The Freeways'
One company benefiting from U.S. businesses expanding their operations in Mexico is information technology services provider redIT International.
Matt Thoene, managing director of U.S. operations, said the firm has been growing operations in Mexico as more and more U.S. companies in Mexico seek reliable connectivity in terms of voice and data networking.
Business has been growing 10 percent a year south of the border.
The company recently opened a 95,000-square-foot datapark in Mexico City and has two centers in San Diego, including an 88,000-square-foot data center in Rancho Bernardo.
"It's fast-growing, and we've had to set up a dedicated sales force down there," Thoene said.
Meanwhile, commercial developer Murphy said the second Otay Mesa port of entry should further boost the Otay economy. The completion of a number of links to Mexico has already helped considerably, he added, pointing to the completion of Interstate 905 and State Route 125, both of which will connect to the new Otay Mesa Port of Entry.
"The single most important factors in Otay are the freeways," he said. "In Southern California, it's always about the freeways."