AMC Completes Multimillion-Dollar Upgrade of La Jolla Village Theater
Friday, August 23, 2013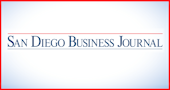 AMC Theatres of Kansas City has completed a multimillion-dollar renovation of its AMC La Jolla 12 theater in San Diego's La Jolla Village neighborhood.
Company officials did not disclose exact investment costs. The 12-screen venue is located in the La Jolla Village Square retail center, at 8657 Villa La Jolla Drive.
Auditoriums now include plush reclining seats, and the theater has an expanded concession area now offering hot foods such as chicken tenders and pizza. There are also new Coca-Cola Freestyle machines offering 120 soft-drink options.
The theater lobby has the new MacGuffins Bar, named for a movie term coined by famed movie director Alfred Hitchcock, with beer, wine and cocktails available to those 21 and older. Select auditoriums have also been designated as "21 and older" for a more mature moviegoing environment.
The company in coming weeks will be instituting a reserved seating policy at the La Jolla Village location.
AMC Theatres, part of AMC Entertainment Inc., operates 342 U.S. movie venues, including five in San Diego County.
— SDBJ Staff Report