Northrop Grumman Gets Navy Contract Modification Worth $27.6M
Thursday, August 22, 2013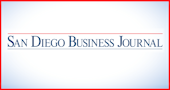 The U.S. Navy recently exercised an option on a contract with Northrop Grumman, giving the vendor more work on an experimental unmanned surveillance aircraft.
The contract modification is worth $27.6 million to Northrop Grumman, which bases its unmanned systems business in Rancho Bernardo.
The corporation will provide additional operations and maintenance services in support of the Broad Area Maritime Surveillance demonstrator unmanned aircraft system. The aircraft, known as" BAMS," is a variant of Northrop Grumman's Global Hawk unmanned spy aircraft, built for surveillance over the open ocean.
Seventy percent of the work will be done in Patuxent River, Md., home of the Naval Air Systems Command. The balance will be done outside the continental United States.
A Pentagon announcement said Navy funding for the project expires at the end of the federal fiscal year, which is Sept. 30.
— SDBJ Staff Report