DermTech Raises $5.6M in Series B Funding
Wednesday, August 21, 2013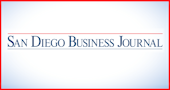 DermTech Inc., a La Jolla-based developer of skin cancer diagnostic technology, has raised $5.6 million in Series B funding.
The financing was led by Jacobs Investment Company LLC, and also included other unnamed investors.
The privately held company said in a statement that the funding will help further development and laboratory accreditation efforts. It will also open a new lab space to process the tests, the company said. DermTech's tests analyze skin samples for genes that are indicative of cancer.
— Meghana Keshavan