J&J Closes Aragon Pharmaceuticals Deal
Tuesday, August 20, 2013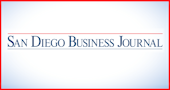 Johnson & Johnson Inc. has closed on a $650 million acquisition of San Diego-based drugmaker Aragon Pharmaceuticals Inc.
The privately held Aragon received $650 million up front, and an additional $350 million in milestone payments could follow from the New Brunswick, N.J.-based pharma giant. The companies initially announced the acquisition in June.
Aragon is developing a prostate cancer drug, which will be used to complement the prostate cancer therapies existing in J&J's (NYSE: JNJ) pipeline.
Aragon announced two investment rounds totaling $92 million last year. This is on top of some $30 million invested in the company since it was founded in 2009.
Aragon executives and staff have formed a new company, Seragon Pharmaceuticals Inc., which will use some of Aragon's technology to develop a breast cancer treatment. Seragon said it is closing a Series A round of financing, but wouldn't disclose how much money it has raised. It said it's being funded by legacy Aragon investors that include The Column Group, OrbiMed Advisors, Aisling Capital, TopSpin Partners and venBio.
Richard Heyman, former CEO of Aragon, has been named CEO of Seragon.
-Meghana Keshavan