AEROSPACE: IT SEES NEED FOR FAST, STEALTHY AIRCRAFT
Kratos Spots Opening in Drone Space
Monday, August 19, 2013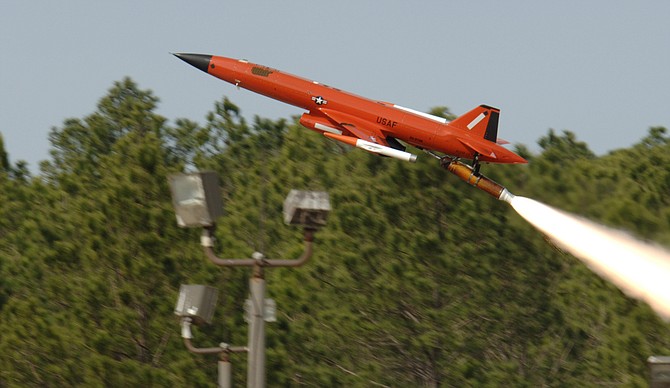 Eric DeMarco admits he was holding something back in spring 2012 when he announced that his company, Kratos Defense & Security Solutions Inc., was buying Composite Engineering Inc., a Sacramento aerospace business.
What he didn't say was that he wanted to turn CEI from a maker of supersonic target drones into a maker of unmanned combat aerial systems, or UCAS. Such a conversion was absolutely part of the plan, DeMarco says now.
"Sometimes you don't want to say things too early," he said.
That perhaps understandable considering what's at stake. The market for unmanned aircraft market is expected to grow from 2,500 units in mid-2013 to more than 7,000 units in 2020, one analyst noted, citing data from Arizona-based Composite Forecasts and Consulting LLC.
Kratos, nevertheless, tipped its hand with a recent announcement that it hired newly retired Vice Adm. Gerald Beaman, recently commander of the U.S. Navy's 3rd Fleet, as president of a new UCAS division.
Kratos Defense (Nasdaq: KTOS) said it plans to spend at least $5 million during the second half of 2013 on new aircraft flight testing, engineering and other unspecified items related to certain new unmanned aircraft. The company also mentioned an opportunity involving "a strategic U.S. government customer" but gave no further details.
Mark Jordan, senior security analyst with Noble Financial Group Inc., says the customer might be the U.S. Air Force.
'Meaningful Credibility'
The Air Force already knows Kratos Defense and CEI, Jordan said, mentioning two recent contract wins. One was for a target drone called the BQM-167A, which flies slightly slower than the speed of sound; the Air Force is buying 28 of them.
Two things stand out about the January announcement, Jordan said: It covers more than a year, and it's a sole-source deal, meaning no one else does that work.
A separate deal, announced one month earlier, is for ground terminals "supporting two strategic unmanned aerial vehicle programs." Though Kratos did not announce the customer, Jordan thinks it's the Air Force as well.
"While Kratos is a small company, they have meaningful credibility with the Air Force," the analyst said.
He also said the Air Force needs an alternative to unmanned aircraft such as General Atomics Aeronautical Systems Inc.'s Predator and Reaper. Relative to the CEI aircraft, General Atomics' products are large and slow. They operate well in uncontested airspace over Afghanistan, Iraq, Pakistan and Yemen, the analyst said. But aircraft in contested airspace must be fast and stealthy.
General Atomics, meanwhile, is developing a jet-powered version of its Predator.
Profitable acquisition
Kratos Defense paid $155 million for CEI in a deal that closed 13 months ago. The acquired company had $100 million in revenue and $20 million in profit during the 12 months leading up to the acquisition, DeMarco said.
CEI has delivered 300 target and decoy aircraft a year for the past four years, DeMarco said. The business also provides fuselages for the Air Force's miniature air launched decoy, or MALD. Raytheon Co. (NYSE: RTN) is the prime contractor on the project. In addition to the Air Force, CEI counts the U.S. Army, U.S. Navy and foreign militaries as customers.
Because Kratos Defense is funding development of its high-performance, low-cost UCAS product out of its own pocket — without help from the U.S. Department of Defense — the business retains all the data rights and proprietary intellectual property to use in its products, said analyst Mike Crawford of B. Riley & Co. Inc.
Drones in the news
The middle of August saw other, unrelated news about unmanned military aircraft.
The Pentagon announced on Aug. 14 that it awarded $15 million each to four contractors toward the design of a next-generation UCAS that will operate from the deck of an aircraft carrier. Recipients were General Atomics, which is based in Poway; Northrop Grumman Corp. (NYSE: NOC), which does engineering work on its unmanned aircraft in Rancho Bernardo; The Boeing Co. (NYSE: BA); and Lockheed Martin Corp. (NYSE: LMT).
Separately, General Atomics disclosed that it successfully tested its Predator B as an electronic warfare platform in April at Marine Corps Air Station Yuma. More tests are planned. General Atomics suggested that unmanned aircraft may one day take electronic warfare assignments away from aircraft with pilots on board.