DINING: COMPANY VETERAN LEONARD COMMA GROOMED FOR TOP ROLE
Jack Thinks Inside the Box for Its New CEO
Monday, August 19, 2013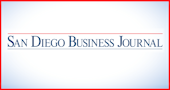 In its commercials, San Diego-based Jack in the Box Inc. often comes off edgy, unpredictable and unconventional, which suits its target demographic, young men who are 18-34 years old, just fine.
Yet the corporate enterprise is nothing like that.
Witness its change of command announced earlier this month: Chairman and CEO Linda Lang said she will leave at year end and will be succeeded by President and Chief Operating Officer Leonard Comma.
More than a few stock analysts who cover Jack in the Box (Nasdaq: JACK) were well aware of the transition.
"The timing of Linda Lang's retirement may have surprised investors, but the promotion of Lenny Comma to CEO (effective January 2014) should not have been a surprise," said Christopher O'Cull, analyst with KeyBanc Capital Markets.
Another analyst Alexander Slagle of Jefferies said Comma "has been groomed for the role and we believe has all the right experience and leadership capabilities to continue to drive positive change in the business."
Comma Knows Jack
Comma wasn't available to the media to interview, so to some degree whatever qualities he may possess to lead Jack to greener pastures will remain a mystery until he officially takes his new job.
Nevertheless, when Comma does assume the top spot, he should be well prepared. He joined Jack in 2001 as its director of convenience store and fuel operations for the company's Quick Stuff chain, which was sold in 2009 after a seven-year run.
From there, he took on several increasingly higher level positions, including vice president of operations for the western U.S. region, having oversight for some 1,200 company and franchised restaurants. In May 2012, he was named president and COO.
Comma has a bachelor's degree in finance from Drexel University and an MBA from Nova Southeastern University. He was born in Queens, N.Y., to immigrant parents from Trinidad, so he's likely got a degree from the school of hard knocks too.
Spokesman Brian Luscomb said in recent years that Comma has emerged as Lang's heir apparent and has worked closely with her, interacting with stock analysts and investors at events and conferences.
"Lenny has demonstrated outstanding leadership in every role he's had at Jack in the Box," Luscomb said.
Re-franchising Strategy Continues
Part of the reason Lang likely felt comfortable about leaving was her confidence in Comma and the progress the company has made in re-franchising its stores, said several analysts.
The company has been selling off many of its company-owned stores over the past nine years as a way of not only reducing its costs, but to generate higher franchised royalties, Luscomb said.
Operating fewer company owned stores and going with the franchise model generates higher cash flow. The company collects a nice spread on the properties it subleases to franchisees, and it avoids the overhead costs that go with operating a unit, including labor.
In the company's third quarter that ended July 7, Jack in the Box reported selling 18 restaurants in Texas. Through last week, it sold 27 more, and an additional 29 pending sales were expected to close by the end of September when its 2013 fiscal year is completed, Luscomb said.
By that time, the number of franchise Jack in the Boxes will have reached 79 percent of its 2,255 stores. As of the end of the third quarter, the franchise ratio was 77 percent.
"Our goal is to get to 80 to 85 percent franchised restaurants by the end of 2014," Luscomb said.
Jack's current refranchising strategy is centered on a bunch of company-owned stores in the Southeast and the Midwest. Luscomb said the company is actively recruiting for franchise owners in certain markets in Tennessee and North and South Carolina.
For the most part, the sales involve multiple units. For example an 18-store group in Beaumont, Texas, was sold to a single operator, Luscomb said.
There's no average price per unit as that involves specific locations and what the cash flow on the stores is, he said.
While the refranchising plan appears to be paying off, not everything Jack touches turns out as wonderful as those snappy ads. In the last quarter it announced plans to close 67 underperforming Qdoba Mexican Grill restaurants. The company also hired a consultant to study that brand's position and possible changes.
For the third quarter, Jack reported a net loss of $5.6 million compared with a net loss of $11.6 million for the same quarter in the prior fiscal year. Revenue in the quarter was $270.8 million, down from $276.4 million for the like quarter of last year.
The company raised its guidance on diluted per share earnings per share to come in at $1.72 to $1.78 at the end of the fiscal year. Last year the EPS was $1.31.
O'Cull of KeyBanc Capital, who put Jack's target price at $45, thinks the stock remains one of the most inexpensive in the quick-serve restaurant space, and recommends a buy on it.
Investors who bought much earlier have been rewarded. About a year ago, Jack's stock was below $26. As of Aug. 14, it was trading at $40.12, up 56 percent from one year ago.