PROPERTY: INVENTORY TIGHT, BUT FINANCING FAVORS APARTMENTS
Condo Developers Bet Cautiously on Downtown
Monday, August 19, 2013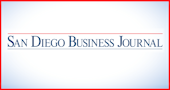 Developers such as Bosa Development Corp. are proceeding with plans to build new high-rise residential condominiums in downtown San Diego, while mindful that the market for them may not bounce back to its heights of the early 2000s.
Vancouver, B.C.-based Bosa Development plans to break ground in early 2014 on a 41-story, 221-unit condo tower, President Nat Bosa said. The project, currently known as "Broadway and Pacific" though not yet formally named, would be the first condo-only high-rise built downtown in nearly eight years.
"The fundamentals here are improving," said Bosa, whose company has completed eight condo developments in downtown San Diego in the past 15 years.
Such optimism in the market is tempered, however, as developers don't expect a quick return to the frenzied local market of a decade ago. Downtown saw an explosion of condo construction and sales that stretched from 2002 to 2006 before new projects dried up following a meltdown in sales that hit in 2007, a year before the nation's larger economic downturn.
The fundamentals Bosa talks about aren't rebounding "as fast as in San Francisco, where they've got more job growth in places like the downtown area," he said.
Condos Are Coming
Bosa's project, at Broadway and Pacific Highway, was approved by city planners last year and is in its final permitting stages. The first condo units would likely go on sale in 2016, with the project also consisting of 16,000 square feet of ground-floor retail and 419 parking spaces.
Another Vancouver company, Pinnacle International, recently began construction on a 40-story high-rise, expected to have 965 condos and apartments, at 15th Street and Island Avenue in East Village.
The developer has not finalized the mix of for-rent and for-sale units that will be available. Pinnacle has informed the city that it will be gauging local condo market recovery as the project nears completion, likely in late 2015, said Brad Richter, assistant vice president of planning for Civic San Diego, which oversees downtown projects.
The vast majority of the nearly 2,000 multifamily units under construction or in the pipeline in downtown San Diego are apartments, most of them in East Village and Little Italy.
Local market analyst Russ Valone said obtaining construction financing for condo projects remains extremely difficult, with lenders continuing to favor apartment developments despite recent improvements in the single-family residential building and sales markets.
Condo Resale Market Could Resurge
No big new projects have replenished the supply of condos since Chicago-based Equity Residential bought the 679-unit Vantage Pointe condo development in 2010 and converted it to apartments — erasing most of the available new-condo inventory.
As a result, downtown had only seven new condos — spread among three buildings — available for sale as of mid-2013.
"When those units are sold, there will be no more new, for-sale condos downtown," said Valone, president and CEO of San Diego-based research and consulting firm MarketPointe Realty Advisors. "With what's in the pipeline, the earliest that any new product would come online is late 2015 or early 2016."
Valone said the downtown skyline has gone from more than 60 construction cranes working on various condo projects in the 2002-2006 period to a half-dozen cranes now deployed primarily on new apartments. While San Diego saw 2,316 new downtown condos sold at the market peak of 2004, that number dropped to 80 sold in 2012.
Since countywide trends suggest rising popularity for higher-density residential developments, such as for-sale attached townhomes, Valone said the downtown condo resale market could see a resurgence in coming months.
Mark Mills, an agent with RE/MAX LLC who specializes in downtown residential resale properties, has observed the resale condo market trending in favor of sellers so far in 2013, with sales prices on track to rise 10 percent over last year. The inventory of downtown resale condos stands at 230 units, he said, still below the 400 units seen two years ago, but above the low of 175 reached six months ago.
"The main issue for a while has been a lack of inventory," Mills said. "We've recently seen a couple of units selling for $800,000 with multiple offers."
And while Bosa's development firm does not track condo resales in its completed downtown projects, he has heard anecdotally this year of an uptick in units going on the market, a sign of confidence among current condo owners.
"It's still a buyer's market, but the sellers are now holding out for better prices, as they should," Bosa said.
Condo Conversions Coming?
Developers might also be encouraged to convert some apartment projects currently in the pipeline into condo developments. This happened in 2005, for instance, when a downtown development called Palermo opened as condos, after it was originally planned as rental units.
"That could be the trend again within the next two years," Valone said. "You would probably see apartment conversions before you see a lot of new condo projects being built."
Bosa said his company focuses on high-end condos, and units at Broadway and Pacific will likely sell for "well north of $1 million." He is aiming for a mix of young professionals and retirees looking to minimize driving and reside near downtown shopping, dining and nightlife.
"We would welcome more development by others downtown," Bosa said. "I think you need a lot more kinds of product, at different price points, to serve this market because so many more people will be coming to live downtown."