Chamber and Bank Partner for New Monthly Business Report
Thursday, August 15, 2013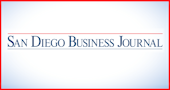 The San Diego Regional Chamber of Commerce in partnership with Silvergate Bank launched a new monthly report called the San Diego County Business Forecast to give insight into future local business trends.
Jerry Sanders, the chamber's CEO, said the report will focus on businesses' predictions and expectations for the short and long term.
The inaugural report based on responses from 208 local businesses in mid-July found that while some industries are optimistic about the next three months, 51 percent said they are facing new challenges, including the crisis surrounding Mayor Bob Filner, implementing the Affordable Care Act and ongoing regulations and taxes imposed by the government.
"The fact that the subject of Mayor Filner came up as often as it did in an open-ended question about new challenges facing businesses shows his troubles have pierced the consciousness of the business community in both the city and county," said John Nienstedt, president of Competitive Edge Research, which conducted the survey.
Other highlights for the report are:
18 percent expect to see an increase in revenue in the next three months, while 42 percent believe a revenue increase is probable, and 34 percent expect sales to hold steady;
61-66 percent don't expect change in their businesses' staffing or employee hours.
61 percent believe conditions in their specific industry will improve.
The survey was done on July 11-16 with 208 randomly selected members of the San Diego chamber and the East County Chamber of Commerce. July's results show the county's Business Outlook Index was +26.9 in a range of (minus) -100 to +100 with zero being a neutral outlook.
— Mike Allen