TECH: MCCAIN INC.'S REDESIGN CREATES SAFER PATHS FOR PEDESTRIANS
New System Signals a Change in Crosswalk Technology Setup
Monday, August 12, 2013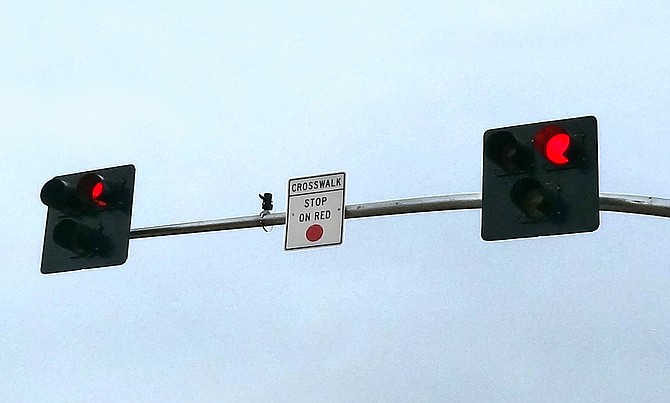 The city of Chula Vista recently turned to a Vista-based company for a new solution to an old problem: how to make a crosswalk near an elementary school safer.
McCain Inc. provided the answer with a new system called the Hawk, short for high-intensity activated crosswalk, which was installed last month on Fourth Avenue next to Montgomery Elementary School.
The Hawk — although activated similarly to familiar crosswalk lights, by pressing a button at either side of the walk — differs from traditional signals in simple but significant ways that have been demonstrated to increase its effectiveness.
The compliance rate with the Hawk is 97 percent, far greater than with standard flashing yellow lights of traditional crosswalk signals, said Muna Cuthbert, senior civil engineer for Chula Vista.
The Hawk signal cost about $100,000 and was funded from a $166,000 state grant, along with about $18,000 in city money. The rest of the funds were used for design, crosswalk striping, construction for adjacent curbs and gutters, construction management and project administration, Cuthbert said.
'Largest Producer'
While the Hawk represents a new direction in crosswalk signals, its maker is hardly new to the industry.
McCain was founded in 1987 and sells entire traffic signal systems to cities and counties all over the nation. It expects to sell "in the tens of thousands of units" this year, including about 12,000 in New York City, said Nathan Welch, the company's director of sales.
"We're probably the largest producer of traffic signals in the nation," he said.
McCain was founded by Jeffrey McCain, a former electrical contractor who became frustrated by the quality of the work done by traffic signal contractors he worked with. The company has grown from modest beginnings — and through two major recessions — to about 550 employees, including about 400 at a plant in Tijuana.
In 2011, McCain opened a 100,000-square-foot plant in Vista it built for $20 million to attract outsourced manufacturing for other companies.
Difference in Safety
The Hawk has a different look with two red lenses over a single red lens and signage telling drivers to "Stop On Red." Perhaps more importantly, the Hawk's light sequence provides a noticeable deviation from traditional signals. After a pedestrian presses the button, the lower lens begins flashing yellow and then turns solid yellow. Then, the top two lenses turn solid red before the walk signal is activated for pedestrians on both sides of the crosswalk. After a 15-second countdown, all lenses go dark, signaling to vehicles that they can proceed once the crosswalk is clear.
School officials and parents have given the Hawk system high marks since it was activated.
"I've talked to some school people, and they love it. And all the parents really like it too," Cuthbert said.
Although she said some drivers who stopped didn't realize exactly when to move forward after the lenses went dark, she's confident they'll adapt as they get more familiar with it.
And there will be many more drivers adjusting besides those motoring past Montgomery Elementary.
Hawk systems have been deployed all over Arizona and a few other states, Welch said. They are generally installed at crosswalks in the middle of blocks or in shopping malls, rather than at intersections.
The Hawk systems are more dynamic than flashing yellow signals that have been used for similar crosswalks, Welch said. Many drivers over time tend to ignore flashing warning signals, making such crossings less safe, Welch said.
"But when you have something that's dark and then lights up, it brings greater motorist awareness," he said.