Local Resale Home Sales up 5% in July
Monday, August 12, 2013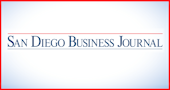 Resale home sales in San Diego County in July increased 5 percent over the June numbers, while the median housing price stayed flat, according to the Greater San Diego Association of Realtors.
The median price on single family houses last month was $485,000, practically unchanged from June when it was $481,000, but up 23 percent from June 2012, GSDAR said.
Condos and townhomes' median price was $320,000 in July, up 6 percent from June, but an increase of 36 percent from a year earlier.
In July, the ZIP codes with the highest sales of single family houses were 92127/ Rancho Bernardo, 76; 92098/ Carlsbad, 69 sales; 92064/ Poway, 61 sales; 92056/Oceanside, 58 sales; and 92026/ Escondido, 54 sales.
The most expensive county listing was a four-bedroom, six-bath, 9,000-square-foot Rancho Santa Fe house that sold for $6 million.
—SDBJ Staff Report