HEALTH: QUALCOMM, PALOMAR HEALTH SUPPORT THE SOFTWARE RESEARCH
Incubator to Tailor Wearable Devices for Medicine
Monday, August 12, 2013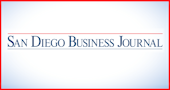 A new medical technology incubator formed by executives from Palomar Health and Qualcomm Life Inc. aims to help software companies develop health care applications for wearable devices such as smart watches, implants and Google Glass.
The founders of Glassomics, as the new incubator is called, hope to spur innovation that will leverage an exciting and promising area of technology.
As part of its contribution to Glassomics, Qualcomm Life, a subsidiary of telecom giant Qualcomm Inc., will offer developers access to powerful development tools. This includes the 2net hub, which enables medical devices to network and securely transmit sensitive information, and AllJoyn, a peer-to-peer software platform that enables doctors to share patient information. Palomar Health will let developers use hospital data to fine tune their applications and see how they work in real time.
Wearable medical devices are a hot commodity. ABI Research, a New York-based market intelligence company, projects that more than 100 million of these wireless devices will be sold annually by 2016. Google Glass, in particular, could command an $11 billion market by 2018, according to a May report from BI Intelligence, a research spinoff of New York-based news site Business Insider. Although Google Glass won't be available commercially until 2014, about 10,000 people have been given the $1,500 devices as early "explorers."
"There's going to be a revolution of these wearable computing devices," said Orlando Portale, Glassomics co-founder and Palomar Health chief innovation officer. "Medical technology is evolving so quickly, and we're looking at Google Glass as the next step."
'A Different Kind of Incubator'
The health care IT community has been abuzz over the medical potential for these computerized glasses. Augmented reality programming could enable surgeons to access medical resources without looking away from the operating table, Portale said. Facial recognition apps could make it possible for doctors to access health records without losing eye contact.
Glassomics wants to attract developers who work in this space, said Don Jones, Glassomics co-founder and vice president of global strategy and market development for Qualcomm Life. In turn, developers will have access to resources from Qualcomm Life and Palomar Health during early-stage testing.
One area software developer is on board so far. Carlsbad-based Sparseware Inc. has been contracted by Palomar Health to build initial glassware prototypes focusing on augmented reality and vital sign visualization. It is using the incubator's resources to inform its app development process.
Jones described Glassomics as a "different kind of incubator" in that it provides neither funding nor coaching.
"But you have direct access to Qualcomm's technology and a hospital staff that's educated on the trials and tribulations of alpha and beta testing," he said.
Familiar With Wireless Health Care
With the recent opening of its $956 billion, 11-story hospital in Escondido, Palomar Health has branded itself as "the health system of the future," focusing heavily on wireless health. Palomar Medical Center has already deployed a smart watch. Since February, it's been testing a new wrist-worn monitoring device developed by San Diego's Sotera Wireless Inc.
An inpatient's day is typically punctuated by frequent vital sign checks. Sotera's ViSi Mobile System instead enables staff to monitor a patient's temperature, heart rate, respiration rate and blood oxygenation levels remotely and consistently. This is a departure from the norm and has required a learning curve, but Palomar Health physicians and ancillary staff are trained on incorporating new technology into their day-to-day processes.
"We're used to dealing with early-stage companies, and we already have data from wireless, wearable monitors that other developers can use in their own testing," Portale said.
Glassomics isn't the only player in the rush to bring Google Glass to health care. Accelerators around the country are also in this space, such as Chicago's HealthBox and New York-based BluePrint Health. San Francisco incubator Rock Health has backed Bay Area startup Augmedix Inc., which will focus exclusively on medical applications of Google Glass.
And Harvard Medical School will run a pilot that tests the device's efficacy in emergency rooms later this year, spearheaded by John Halamka, the school's chief information officer.
A May survey from global consultancy Deloitte found that 43 percent of doctors use smartphones or tablets in clinical practice. Just as these tools have become commonplace in medical settings, Halamka said he envisions wearable devices as key in physician care.
"Ten years ago, no one could imagine a world in which everyone walked around carrying a smartphone," Halamka said. "Although Google Glass may make the wearer appear a bit Borg-like, it's highly likely that computing built into the items we wear will seem entirely normal soon."