THE BUSINESS OF LAW COLUMN
Group Gives Thanks, Praise to Attorneys for Pro Bono Work
Monday, August 12, 2013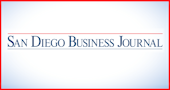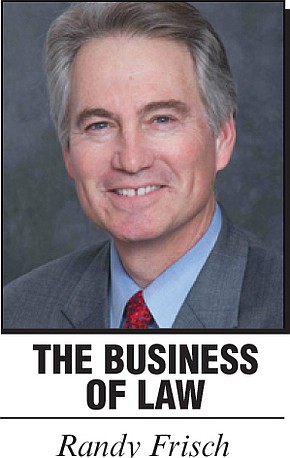 The San Diego Volunteer Lawyers Program is putting on its annual Justice for All Celebration Sept. 19. It's a fun event, and you should be there.
This year, Ben Wagner earned the Pro Bono Publico Award, which is my favorite. It is bestowed on a San Diego attorney who has selflessly provided legal services on behalf of the SDVLP. Wagner, a litigation associate with Mintz Levin, dedicates his time and pro bono services to domestic violence victims.
The event, which will be held this year at The San Diego Natural History Museum in Balboa Park, is being sponsored primarily by McKenna Long & Aldridge LLP. Cohelan Khoury & Singer is also a big sponsor. Morrison Foerster LLP is big, too. Sandler Lasry Laube Byer & Valdez LLP is helping; so is Kramm Court Reporting, Mintz Levin Cohn Ferris Glovsky and Popeo PC and City National Bank. The food is excellent, so be there when the doors open at 5:30 p.m.
DLA Piper LLP has earned the Sustaining Justice Award, which honors a San Diego law firm that has provided ongoing extensive support to the SDVLP over the years through its provision of pro bono legal services and financial support. DLA Piper has been a staunch supporter of the SDVLP for decades. Melissa Blackburn-Joniaux, has earned the Exemplary Service Award. This award honors an individual who has volunteered extensively with the SDVLP, but not necessarily by providing direct legal services. Blackburn-Joniaux, of the Law Offices of Melissa Blackburn-Joniaux, has helped organize the SDVLP's Women's Resource Fair since its inception 24 years ago in a variety of roles.
Kirby Noonan Lance & Hoge LLP; Cohelan, Khoury & Singer; and Hanson Law Firm PC are the firms being honored for their work to improve access to justice. This special award honors law firms that have directed significant, special financial support to SDVLP, which has benefited greatly from these three firms' generosity and support.
Spencer Skeen keeps growing the local office of Ogletree, Deakins, Nash, Smoak & Stewart P.C. with the addition of Jesse Ferrantella, who became the newest associate last week. Ferrantella recently completed a two-year clerkship with the U.S. Department of Labor in San Francisco. While in law school, Ferrantella won the Adam A. Milani Disability Law Writing Competition, which is a national writing competition open to all students who attend law school in the United States.
Tomas D. Penfield, a partner with CaseyGerry, the new, and arguably easier handle for Casey Gerry Schenk Francavilla Blatt & Penfield LLP, has been recognized as a Diplomate of Trial Advocacy by The American Association for Justice and the National College of Advocacy. Penfield was honored at the AAJ event last month for his commitment to improving practical knowledge of trial skills and substantive law, as well as for his dedication to teaching and pursuing advanced legal education. Penfield is the only attorney in San Diego to attain this status, and one of nine in California to do so.
Susan Gorman has launched Gorman IP Law, an intellectual property firm that uses a proprietary strategic assessment process to help startup and emerging companies leverage their intellectual property as a competitive tool and better plan for IP-related costs. A scientist, a lawyer and a business owner, Gorman has faced the hurdles of trying to leverage intellectual property.
"San Diego is a city rich in innovation, but many companies simply aren't doing enough to protect their greatest asset because they are focused on short-term issues," she said.
Prior to founding her firm, Gorman spent 13 years with Birch Stewart Kolasch Birch LLP. The new firm is in Del Mar Heights.
Duane Morris LLP has hired Jason Ohta as special counsel. Ohta was a former assistant U.S. attorney and will help the firm bolster its existing white-collar criminal defense capabilities. He will work closely with partner and fellow former Assistant U.S. Attorney Michael L. Lipman. Ohta joins the firm from Latham & Watkins LLP. Ohta focuses his practice on all aspects of white-collar criminal defense and related parallel proceedings, regulatory matters and complex business litigation.
Higgs Fletcher & Mack LLP has provided a $10,000 scholarship to a deserving University of San Diego law student, for the third year. The scholarship, made possible by contributions from 29 of the firm's attorneys, was awarded to Lisa Charukul for the 2013 academic year.
"Our firm and attorneys have made it a priority to promote diversity in law school education," said Steve Cologne, partner at Higgs.
Charukul was awarded the Diversity Scholarship based on her community service involvement, academic achievement, commitment to volunteering and other personal qualities. She is interning at the Public Defender's Office and is slated to graduate in 2013.
Higgs Fletcher & Mack has been contributing to USD School of Law since 2004 and created the Diversity Scholarship in 2010 to help significantly lessen the financial burden on law students in need. In addition to Cologne, Higgs participating attorneys include Robert Fitzpatrick, Victoria Fuller, Loren Freestone, Michael Gibson, Jon Grissom, Alexis Gutierrez, Susan Hack, Jim Harrigan, Dan Herbert, Laura Heyne, Craig Higgs, Bill Low, Margaret Mangin, Susan Mercure, Will Miller, Cynthia Morgan, John Morrell, Catherine Morrison, Julian Myers, Bruce O'Brien, Mary Robberson, Jason Ross, Phil Samouris, Dick Shaw, Sam Sherman, Mark Stender, Rahil Swigart and Kevin Wheeler.
Randy Frisch is vice chancellor of Business and Administration at National University, and former publisher of the Business Journal. He is licensed to practice law in California, Nevada and Idaho.