Kratos to Enter Unmanned Combat Aerial Systems Business
Friday, August 9, 2013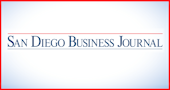 Kratos Defense & Security Solutions Inc. will be getting into the unmanned combat aerial systems business, the company said.
Recently retired U.S. Navy Vice Admiral Gerald Beaman has joined Kratos Defense to run the program, the company said Aug. 8. Beaman stepped down as commander of the 3rd Fleet on June 3.
Kratos (Nasdaq: KTOS) already has a subsidiary producing target drones.
In a prepared statement, CEO Eric DeMarco said the unmanned combat aerial systems business will be "critically important to our company's strategic vision." The future of aerial combat will be in low-cost unmanned composite aircraft, DeMarco told investors during a conference call.
The news came as the business reported operating results for the quarter ended June 30. Kratos Defense reported a net loss of $9.6 million on revenue of $235.2 million.
— SDBJ Staff Report