NEWS AND NOTES FROM COMMUNITIES AROUND SAN DIEGO COUNTY
Regional Report
Monday, April 29, 2013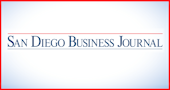 POWAY
Laptop Bag Company Releases Smartphone Cases
STM Bags, an Australian company with U.S. operations in Poway, recently released new cases for smartphones.
Its Grip line of cases fits the Samsung Galaxy S4 and the Apple Inc. iPhone 5. The product protects the phone and gives the device what STM calls a "grippy" surface.
STM's Poway office has a dozen employees, who handle sales, marketing and fulfillment for North America. The local staff also works on global marketing.
STM was founded in Sydney, Australia in 1998. It also imports laptop bags and sleeves.
— Brad Graves
POWAY
Company Releases Enhanced Virtual DeDuplication
BridgeSTOR LLC says it has released an enhanced version of Crunch, its virtual deduplication appliance which works in concert with Microsoft Data Protection Manager (aka DPM).
"Crunch for DPM is the technology our customers have been asking for," said BridgeSTOR CEO John Matze. "The administrator or manager responsible for DPM storage capacity now has a capability — never available before — to customize an optimal deduplication environment for their installations. BridgeSTOR's Crunch for DPM is the answer to DPM's voracious storage appetite."
Annual subscription fees start at $2,400 per instance.
BridgeSTOR is a privately held company.
— Brad Graves
ENCINITAS
Instant Win Promotion Website Launches 2.0 Version
FreeButton Inc., an instant win promotion website based here, said it launched its 2.0 version which includes a variety of new features and improvements.
The upgrades to the site include the ability to host multiple live giveaways; a new e-commerce portal offering products across a wider range of categories; and a give-back feature.
FreeButton CEO James Lynch said the new version of the website allows users to win high value products without sacrificing a penny of their money.
— Mike Allen
VISTA
New Brewery to Begin Bottling its Beers
Latitude 33 Brewing Co. said it will begin bottling its beers by the end of April and selling the same throughout the county by late May.
The brewery that opened last year in same space formerly used by Green Flash Brewing, has one of the larger production facilities and plans to leverage that capacity to grow its distribution into Los Angeles and Orange counties, the company said.
For its initial bottling, the brewery plans to issue its three most popular versions: Camel Corps IPA, Pasha's Rye Brown Ale and Vanilla's Porter.
— Mike Allen
VISTA
Company to Debut New Traffic Management System
McCain Inc., a maker of traffic control equipment, said it will debut a new Transparity traffic management system at an industry trade show this month in Nashville, Tenn.
The new system is an improvement on an earlier management system that was deployed at 175 sites worldwide, the company said.
— Mike Allen
CARLSBAD
New Performance Training Center Opens on SKLZ Campus
Massachusetts-based Athletes' Performance Inc., which operates training and workout facilities, recently opened its fifth U.S. location at the Carlsbad headquarters campus of SKLZ, which makes sports training products.
A statement from SKLZ said the companies are combining efforts to provide "integrated, holistic training" designed to improve athletic performance. The new facility is in the SKLZ building at 2081 Faraday Ave.
Athletes' Performance is offering a range of programs at the site, including performance training, rehabilitation and nutrition services. Offerings are available to professional, collegiate, high school, and youth athletes, as well as military and corporate customers.
SKLZ makes training products for several sports including golf, baseball, football and soccer, which are sold globally by sporting goods retailers, specialty shops and mass merchants.
— Lou Hirsh
CARLSBAD
ViaSat Names Dirks New CFO
Satellite services provider ViaSat Inc. has named Bruce Dirks as its new chief financial officer. The Carlsbad-based company said in a statement that Shawn Duffy, who has served as interim CFO since August 2012, will continue in her position as vice president, chief accounting officer and corporate controller.
Dirks had previously served as a portfolio manager at Fidelity Management & Research Co. since 2000. Prior to joining Fidelity, he was a vice president of investments at TRW Investment Management Co., and earlier served in financial positions at Raytheon Co. and General Dynamics Corp.
ViaSat provides communications, Internet and networking services via satellite technologies to consumers as well government, military and corporate clients. The company trades under the symbol VSAT on the Nasdaq stock exchange.
— Lou Hirsh