DEFENSE: NORTHROP GRUMMAN'S DRONE IS BIG PART OF NAVY'S PLANS
Air Force Steers Away From Global Hawk
Monday, April 29, 2013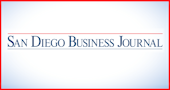 The recently released White House budget request for 2014 allocates fewer dollars to Global Hawk, Northrop Grumman's high-flying unmanned spy plane.
A U.S. Air Force spokesman said the new budget request calls for $134 million in research and development, as well as $68 million in procurement for Global Hawk.
And while the U.S. Navy plans to eventually field a version of Global Hawk — as many as 65 aircraft, one defense analyst said — the near-term forecast for the Air Force version doesn't seem to be as good.
"The outlook for the Global Hawk has dimmed over the last couple of years," said Phil Finnegan, director of corporate analysis at Teal Group Corp. of Fairfax, Va. "It's not nearly as large a program as it was initially planned."
Rancho Bernardo Work
Northrop Grumman does engineering work for Global Hawk at its unmanned systems center in Rancho Bernardo.
Analysts say the Air Force is finding other ways to do Global Hawk's work, and the Air Force has gone as far as to propose putting its new Global Hawks into storage. Congress has resisted that idea.
"We are pleased that the president's budget submitted on April 10 funds continued operations of Global Hawk Block 30 and Block 40 unmanned aircraft in FY14 for the U.S. Air Force," said a statement from George Guerra, vice president for the Global Hawk program at Northrop Grumman. "We look forward working with the USAF to produce the previously appropriated three Lot 11 aircraft and appreciate the Congress' unwavering support of this capability.
"To date, 38 Global Hawks have been delivered, providing the most cost-effective, efficient and safest means of gathering intelligence, surveillance and reconnaissance (ISR) information over a wide geographic area without putting our warfighters in harm's way. Our fleet of Global Hawk aircraft have proven their utility in military and humanitarian operations across the globe, with more than 94,000 total flight hours, 75 percent of which were flown in combat.
"We remain ready to support the Department of Defense in its current and future efforts to provide adaptable and affordable ISR solutions for combat, homeland security and other disaster relief support missions."
The Air Force has 18 Global Hawks of the Block 30 variety and there are funds to buy three more, a senior Air Force officer said during a media briefing earlier this month.
"We've got contractual obligations to operate it through '14," said Maj. Gen. Edward Bolton, deputy assistant secretary of the Air Force for budget. "You know, our long-range plan in the Air Force is that we would get out of operating the Global Hawk Block 30."
Plans for Block 40
Bolton said the Air Force intends to operate its Block 40 aircraft, which have different sensors than the Block 30. The general's comments were provided in a Pentagon transcript of the April 10 briefing.
Ron Stearns, research director with G2 Solutions in Washington state, said the Air Force may want to take savings from the Global Hawk Block 30 program and put the money toward the F-35 Lightning II (aka Joint Strike Fighter).
The 2014 budget is in its very early stages, and Congress has yet to modify it. But it shows decreases in several aviation programs, reflecting tighter federal budgets.
An analysis of the 2014 budget request, recently compiled and published by Aviation Week, found a total of $893.8 million in funding for the Global Hawk program. That is down from the $1.25 billion for the program in the 2013 budget request, and $1.46 billion in 2012.
Also declining is funding for another San Diego area unmanned aircraft program, the Predator and Reaper from General Atomics Aeronautical Systems Inc.
The Aviation Week analysis shows $1.17 billion for the Predator family in the 2014 budget request. That is down from $1.91 billion in the fiscal 2013 budget request and $2.07 billion in the 2012 budget.
The outlook is mixed for new aircraft programs that don't have a strong presence in San Diego. Funding will decrease for the F-35 and the Osprey. The latter is a hybrid airplane-helicopter. Funds are increasing for the KC-46A tanker and P-8A Poseidon, the analysis says.
The Global Hawk, it seems, has competition in the Air Force fleet.
Both Finnegan and Stearns said there may be a classified aircraft doing some of the reconnaissance work that Global Hawk is built for.
The Air Force can also fall back on the U-2, a high-altitude plane with a pilot. Introduced in 1956, the U-2 is still flying, and it reportedly does some things that Global Hawk can't.
Part of the U-2 sensor suite is not duplicated by the Global Hawk, Stearns said, adding that the U-2 might have a bigger payload bay than Global Hawk.
The U-2 has a unique optical bar camera, Finnegan said, which produces very high-resolution images on film.
If the mission is to "go look at that," and the Air Force knows the exact time and place it wants to look, the U-2 may be good for the task, Stearns said. If the mission requires loitering over an area for a long time, an unmanned aircraft may be better. The Air Force says Global Hawk can stay aloft for more than 28 hours.
There also may be a cost issue. The Global Hawk is costly to operate compared with the U-2, Finnegan said.
Contracts Keep Coming
Northrop Grumman continues to get contracts related to Global Hawk.
This month it received a $35.7 million contract modification for Global Hawk engineering and manufacturing development. The cumulative value of the multiyear deal is slightly less than $2.3 billion. Work will be performed in San Diego and is expected to run through early 2017. The Air Force Life Cycle Management Center at Wright-Patterson Air Force Base in Ohio awarded the deal.
And Northrop has other things it can look forward to, such as selling as many as 65 Global Hawks to the Navy. The Navy project, called Triton, is good news for the contractor, Stearns said.
There are discussions on exporting Global Hawk to Japan and South Korea, Finnegan said.
Northrop Grumman, based in suburban Washington, D.C., recently reported net earnings of $489 million on sales of $6.1 billion in the quarter ended March 31. One year ago, it reported net earnings of $506 million on sales of $6.2 billion. Its New York Stock Exchange ticker symbol is NOC.