CareFusion to Pay $41M
Friday, April 26, 2013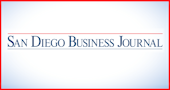 San Diego-based medical device maker CareFusion Corp. announced it will pay the government about $41 million to resolve an investigation related to the company's sales and marketing practices.
CareFusion, San Diego's fourth largest public company, said it has entered into a non-prosecution agreement and will continue to cooperate with the government. The company will record the charge in the third quarter of fiscal 2013 to establish a reserve for the amount.
The investigation centered on the relationship between the marketing department and health care professionals regarding the sale of its ChloraPrep skin preparation product.
CareFusion sells medication and medical devices such as ventilators and IV pumps. It was spun off from Cardinal Health Corp. in 2009, and has since divested itself of some of its subsidiaries and also made several acquisitions.
"We are pleased to have reached this important milestone as we continue to build our foundation for future growth," Kieran Gallahue, the company's chairman and CEO, said in a statement. "Since our spinoff, we have made significant investments to improve our quality systems, including our sales and marketing practices, and we remain committed to adhering to the highest standards."
CareFusion has a $7.67 billion market capitalization. At market close on April 25, the company's shares traded at $34.46. Its stock value is up 34 percent from a year ago.
— Meghana Keshavan