GroundMetrics Inc. Closes $1.5M Round of Financing
Wednesday, April 24, 2013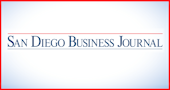 GroundMetrics Inc., a San Diego developer of electromagnetic sensing technologies for the oil and other energy-producing industries, said it closed a $1.5 million second round of financing following a successful test of the technology on an oilfield.
Both the second and the first rounds were led by the Tech Coast Angels. Other syndicates investing in the firm were the Rady Venture Fund, La Costa Investment Group, Crescent Ridge Partners, and Rancho Santa Fe Partners. The latest round also attracted international interest with investors in Cyprus, Dubai, Great Britain and India.
The purpose of the second round is to enable the company to complete product engineering and initiate commercialization, the company said. GroundMetrics technology is still at the prototype stage and additional engineering is necessary before it can provide commercial surveys, the company said.
— SDBJ Staff Report