Business Telecom Operator Expands in Poway
Monday, April 22, 2013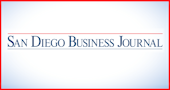 New Jersey-based Phone.com, an Internet-based telephone company, said it recently opened a new office in the Poway Business Park.
The company said it occupies 5,000 square feet of space in the 14200 block of Danielson Street. It's home base for 25 employees working in network operations, customer support and product development, specifically the development of new services and features.
The Poway location adjoins a building occupied by Tierra.net, Phone.com's partner and data center provider. Phone.com employees had been housed in Tierra.net's offices for several years.
In a prepared statement, Phone.com CEO Ari Rabban said company growth prompted the move.
Phone.com was founded in 2007 and claims more than 25,000 business customers.
— SDBJ Staff Report