Life Technologies to Be Acquired By Thermo Fisher Scientific for $13.6B
Tuesday, April 16, 2013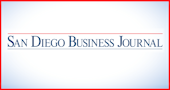 Carlsbad-based Life Technologies Corp. announced it will be acquired by Thermo Fisher Scientific for about $13.6 billion in cash, or $76 per share.
Thermo Fisher, a Waltham, Mass.-based health care equipment company, said that Life Technologies will remain in operation in Carlsbad. The transaction is expected to be completed early next year.
Life Technologies posted 2012 revenues of $3.8 billion, and employs 1,200 in Carlsbad and 10,000 around the world.
The transaction follows months of rumors that the biotech giant, San Diego's third largest company, was up for sale. Life Technologies' stock price rose more than 25 percent since speculation began in January, when the company filed a document with the U.S. Securities and Exchange Commission stating that it had retained banks to assist its annual strategic review.
"The Life Technologies employees are very excited about joining forces with Thermo Fisher. There are many advantages to the combination for them," Life Technologies chairman and CEO Greg Lucier said in an analyst call on April 15. "We're going to have a series of programs in place to retain employees between the signing and the close so that we can deliver a terrific well functioning organization to Marc (Marc Casper, president and CEO of Thermo Fisher) and his team."
Shares for Life Technologies rose 7.5 percent to $73.11 at market close. Its market capitalization has risen to $12.46 billion. Shares for Thermo Fisher, whose market capitalization is $28.1 billion, conversely dropped by 1.3 percent, trading at $78.58 at market close.
— Meghana Keshavan